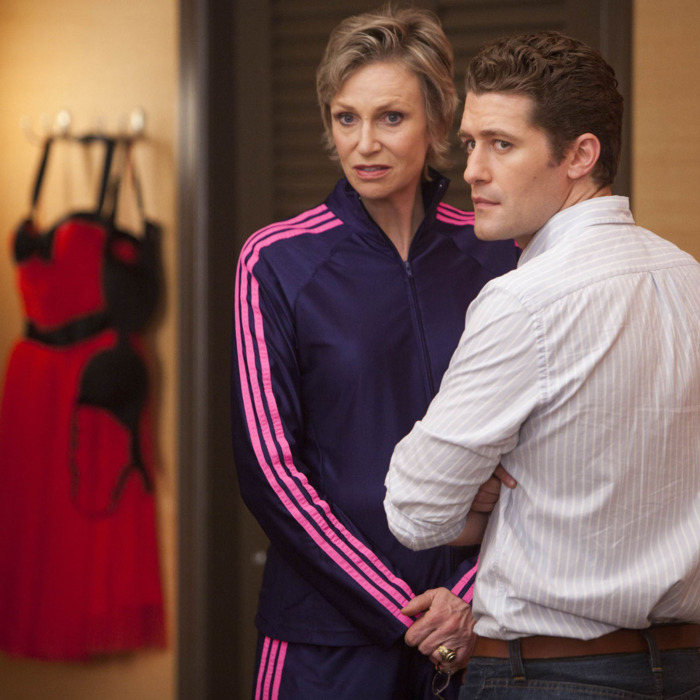 According to Sue, "We are entering the Hunger Games of show choir competition." While I do sort of wish that this episode had been one part singing competition and one part fight to the death (if only because I feel like what The Hunger Games ultimately failed to give us was West Side Story–style dance fighting), "Nationals" is exactly what Glee, at its best, is capable of delivering: Singing teenagers. Some feelings. Some jokes. I even cried once!
Will is overwrought for basically the entire episode — right off the bat, he crows to Emma, "But [the New Directions kids] never get to win!!" Right, except for sectionals three times and regionals twice. Good point, Will. He goes on to wonder if all his hard work was enough. This year I've seen Will work hardest at planning his wedding and writing words on dry-erase boards, so I feel like maybe it wasn't? Everyone rehearses and yells at everyone else (funny how a few seasons back Will told the kids he was ashamed of them for yelling before a competition and now he's praising their intensity) and then things get solemn as everyone remembers that this is the moment, etc. It's a sequence of events that seems prime for a musical montage; weirdly, Glee doesn't get as many of those as one would think. This is my formal request for more montages in season four, beginning with a shot-for-shot remake of the "Push it to the Limit" montage from Scarface.
I liked the moment between Rachel and Jesse St. James outside the competition. It's always nice when Jon Groff turns up, and (not to sound like his mother) he looks so grown up! He got a nice moment with Carmen later in the episode (who turned up at the competition and thought Rachel was great, to the surprise of literally no one) when he told Carmen that Rachel should get into NYADA and she remembered his audition from years back. However, I staunchly refute Carmen's claim that "Giants in the Sky" is Sondheim's most challenging work. Let's be reasonable here, people.
The New Directions draw the death (first) spot, and the Troubletones are leading off, which immediately introduces the Extra Troubletone Ladies Phenomenon. I'm aware that there were other girls in the original Troubletones, and that Mr. Schue agreed to feature the Troubletones at competitions, but where have they been storing the extra ladies? At any rate, they open with "The Edge of Glory," and it's predictably great — as far as group numbers go, the Troubletones' have been the most consistent across the board this season.
The first thing that bears mentioning about the New Directions performance is that "It's All Coming Back to Me Now" didn't even seem like a Celine Dion song. That is a compliment. And "Paradise to the Dashboard Light" may actually qualify as epic. By far, it's the best competition performance from New Directions this season. But what's truly exciting about it is that it's breathless and energetic in a way too few performances this season have been; it actually feels like a culmination of the past three years.
"Unique might need to transfer schools next year." I'd be into it. And I was into Vocal Adrenaline's entire performance. The choreography was streets ahead of the New Directions' — it wasn't on par with season one's "Bohemian Rhapsody," but could anything ever be? I don't love the fact that we are forced to endure Nicki Minaj again, but the choreography is diverting and Unique is compelling to watch, and besides, "Pinball Wizard" is charming enough to compensate. I'd never name anything from the Tommy soundtrack (or the entire Who catalogue, really) as a likely candidate for Glee, but it absolutely worked. Glee has done right by Alex Newell, and I am pleased.
My general feeling about stunt casting is that I'm okay with it as long as the role makes a reasonable amount of sense within the existing confines of the show's story line, and as long as the person cast brings something to the show that's uniquely theirs. Since Glee has set a consistent precedent of having celebrity judges at competitions and since no one makes me feel old and sad the way Lindsay Lohan does these days, her presence is completely justifiable. Oh, Lindsay. I just want you to get some rest and eat a peanut butter sandwich and then maybe get a part-time job as Tina Fey's daughters' babysitter. There's self-deprecation and there's the willingness to show up and be a punch line as long as you get paid, and only one of those things is funny. Joining Lilo at the judges' table were Perez Hilton, who is apparently still happening to us, and Lloyd from Entourage, who is, was, and ever shall be a delight.
Of New Directions, Lindsay says, "I liked them, but they weren't the best singers and dancers." OKAY, BUT THEN THEY CAN'T WIN A SINGING AND DANCING COMPETITION. But of course they have to. And at that point, I wanted them to. Actually, I might even have to go as far as saying that I needed them to. For all that Glee has put me through (no, I don't think that's melodramatic), for all its flaws, when I bought into the pilot, I bought in hard and I bought in for good. Even after they stopped being underdogs, even after they stopped being anything other than caricatures, even after it became abundantly clear that they actually aren't the best show choir in the nation, I still wanted the win for them, and I got a little choked up when they got it.
What I suppose I'm saying here is that I've been a doubter and I've been a hater, but ultimately, I didn't stop believing. Yep. Went there.
What I did not want or need was a pamphlet on Will's desk titled "When It's Finally Time to Have Intercourse." Nor did I need any sort of Will and Emma Bedroom Times footage, and I remain pretty sure that when Glee says a 9 p.m. time slot next year will allow them to be "edgier," they mostly just mean "we'll be able to show people having sex more frequently and for longer intervals"! Time will tell. Also, just so we're all clear, "My man is a winner and he deserves to be treated as such!" isn't a reason for sex, teens of America.
Then it's off to an assembly where Will is awarded the Teacher of the Year prize, which is particularly hilarious, given that there was an entire episode this year devoted to how he was an awful teacher and kind of a giant racist, but his kids won Nationals and, if nothing else, he didn't yell at them vigorously enough to crush their spirits, so it's commemorative plaques all around.
"You teach your students how to dream!" Finn enthuses. "There's nothing more important than that!" (Yeah, take that, reading!) The kids launch into "We Are the Champions," which is great and well-placed here, but you know that someone in the writers' room regrets having shot their "To Sir, With Love" wad all the way back in season one.
Next week: Graduation's finally here and I could swear I saw Burt Hummel doing some sort of choreography in the teaser. (Please don't disabuse me of this notion. We tell ourselves stories in order to live.)