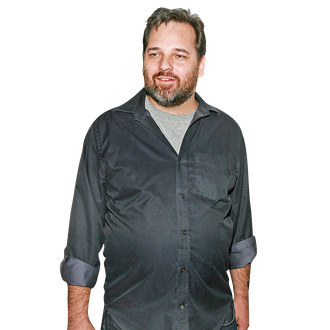 Dan Harmon.
Photo: Angela Weiss/Getty Images
NBC chief Bob Greenblatt has just confirmed what's been an open secret in Hollywood: While Community has been renewed, lead producer Sony Pictures Television has not yet signed creator Dan Harmon to a new deal to exec produce the new batch of episodes. Harmon only signed a one-year deal when the show was renewed last spring, and insiders tell Vulture there haven't been any intense talks just yet. Greenblatt said he's aware Harmon isn't signed, but said he doesn't know details: "I've been so busy looking at our new shows and putting together the schedule, that hasn't come to me yet," he told Vulture. (Universal Television, overseen by Greenblatt, is a co-producer of Community). So what happens if there is no deal? "Shows lose showrunners all the time and do well," Greenblatt said. "We have to figure out at makes sense. I don't have a specific answer for that yet." Gulp.
Meanwhile, Greenblatt also explained why Community has been shifted to Fridays. It turns out it's all about Grimm. The latter drama has done decently on Fridays at 9, where it's often the top show on Fridays among viewers under 50. Putting scripted shows in front of it, instead of reality, might boost ratings even more. Plus, "Both [Community and Whitney] have core audiences that seem to travel with them," he said.