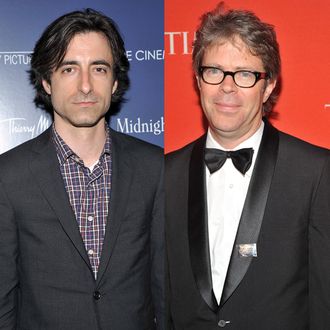 HBO decided yesterday not to move forward with its planned adaptation of Jonathan Franzen's The Corrections, which at first glance seemed strange: It was a high-profile, high-prestige project with a lot of big-name talent attached, including Ewan McGregor, Chris Cooper, Dianne Wiest, and Maggie Gyllenhaal. Noah Baumbach adapted and directed the pilot. But in recent years, HBO has passed on a lot of shows in the same mold — shows that sound fancy or terrific or have star power or intrigue.
This year already, HBO has declined to pick up 40 and Da Brick, both from Entourage producer Doug Ellin. 40, sort of like Entourage: The Middle Aged Years, would have starred Ed Burns, Michael Imperioli, Michael Rapaport, and Adrian Pasdar. Da Brick, which Spike Lee was producing and would have directed, was about an up-and-coming boxer.
Going back just a little bit further to the 2011–2012 development season, there was All Signs of Death, from HBO's golden child, Six Feet Under and True Blood creator Alan Ball, about a slackery dude (The Hour's Ben Whishaw) who gets caught up in a murder investigation. The Neil Labute/Kevin Bacon golf-pro series The Member Guest went nowhere.* Other great-sounding projects that never gelled: a drama about Kevin Spacey as a cult leader; a Justin Theroux–Steve Coogan comedy about documentary filmmakers; a comedy with Molly Shannon as an ex-nun.
But wait! There's more. The Miraculous Year, executive produced and directed by Kathryn Bigelow, that was supposed to star Giancarlo Esposito, Hope Davis, Lee Pace, Patti LuPone, Susan Sarandon, and Frank Langella. Hope Davis was also attached to Spring/Fall, opposite Tea Leoni, in a comedy about the fashion world. Tilda, starring Diane Keaton, was supposed to be a comedy about a Nikki Finke–like writer. And a little further back, there's the Adam Scott–Sarah Michelle Gellar comedy The Wonderful Maladys, about a dysfunctional family.
Some of these never got past a script stage, and some shot full pilots, and some, like 2008's doomed 12 Miles of Bad Road (starring Lily Tomlin), shot six episodes that will never see the light of day. There are lots of good, legitimate reasons shows sometimes don't get off the ground: often things that sound like good ideas turn out to be terrible in execution, or financing becomes problematic, or there's a conflict of creative vision. Every network has a graveyard of good programming that for whatever reason just didn't work out, and HBO hardly has a monopoly on promising shows that weren't.
But man, some of those series still sound pretty damn good.
* This article previously stated that an adaptation of Neil Gaman's American Gods had stalled. The project is actually still in development. Yay!