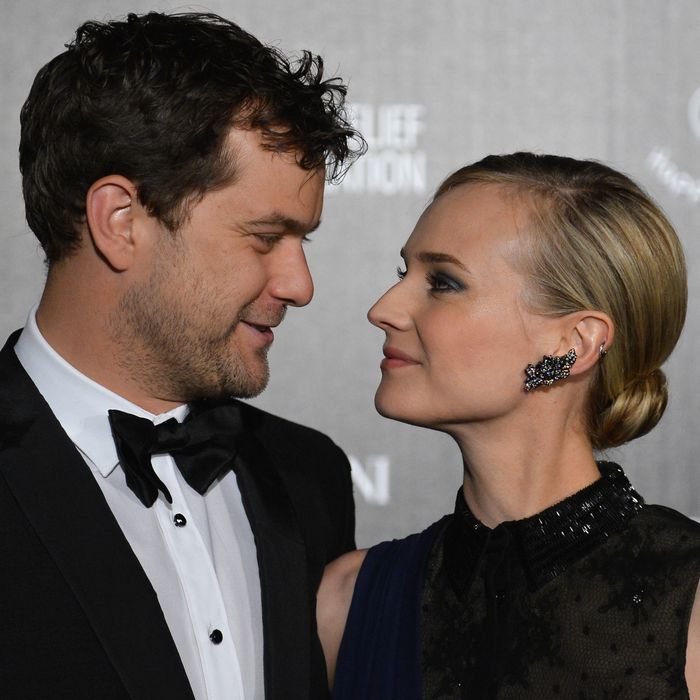 Diane Kruger has hit the big time at the Cannes Film Festival, and her boyfriend Joshua Jackson is along for the ride. It seems like just yesterday — okay, 2003 — that Kruger was being honored on the French Riviera with the Chopard Trophy for Female Revelation. Since then, she's hosted the opening and closing ceremonies of the 60th anniversary of festival and starred in the most anticipated 2009 Cannes film, Inglourious Basterds. Now, though, she's hit another level as a member of the official competition jury for 2012, which hands out the prestigious Palme d'Or. Nerve-racking for Kruger, if not for Jackson, who's perennially attended the festival as her well-appointed plus-one. We caught up with both of them at the IFC/euphoria Calvin Klein/Calvin Klein Collection party to find out how they're dealing with all their Cannes obligations (and yes, being arm candy is an obligation).
First, Kruger:
You're a jury member this year. Does it feel like you're moving up in the world?
At least in the Cannes Film Festival world, I'm moving up! Next step, president! [Laughs.] Twenty years from now.
How does it feel to be on the other side judging actors and judging movies?
You know, it is a little weird, I've got to be honest. Especially if you stand next to someone like [fellow jurors] Nanni Moretti or Alexander Payne, I feel like I'm at the beginning of my career, really, and they have proven themselves over the years. But it is an interesting mix of people in the jury. I mean, we have Jean Paul Gaultier! I just feel like we all have a different point of view. It's different generations, and I feel very humble because obviously I know what it feels like to be on the other side, so I'm trying to be extra sensitive about each movie and have an open mind. It's different.
Any jury members you're going to clash with?
Not really. We see each other every day, but we don't really talk about the movies, so we're going to meet up soon to talk about the first movies, so we'll see.
Do you think you and Jean Paul Gaultier will be in cahoots together?
Uh, no. Hopefully. Are you asking because we're both in fashion? I don't think that's the lens through which we watch movies. I think we all have very different sensibilities.
How do you schedule all your moviegoing?
Oh, it's scheduled. Trust me. Tomorrow morning, 8:30 a.m.
You can't stay out too late?
No, not really. I've not been going out at all. And I don't want to, really. I do take it very seriously, and I do think it's a responsibility. And I do think that if I was in a movie, I would want my jury member to be not half-asleep while they were watching me.
Are you drinking Red Bull or taking stimulants to make sure that doesn't happen?
No, it's just like I'm not getting hammered every night, and I'm trying to be in bed by midnight.
Is that the opposite of previous Cannes?
Well, yes and no. It's kind of always strange. When you're here on a movie, you're doing press all day. And then you go to the party of your movie, and that always necessarily goes late and you want to be there late, and then you have to be up at the crack of dawn and you're always exhausted. And just when you're getting okay, you're flying back to L.A..
Then, Jackson:
You're here because Diane Kruger is on the jury. What does that mean for your role here? Arm candy?
Yes, I'm often the boyfriend of fashion, and here I'm the boyfriend of cinema. At the Met Ball, I'm always the best-dressed elbow in all of those photographs.
Do you style the elbow in particular?
Yes, we put my elbow next to her dress to make sure that we're matching. That's all I need.
Is your right elbow better-looking than your left elbow?
We haven't gone crazy like that. You tell me.
The left elbow is a very handsome elbow. Besides, everyone has a good side and a bad side.
That's true. I've never thought of that before. Now you've given me a whole new complex. Thanks. [Laughs.] "I'm sorry, you can't shoot that elbow!"
Does this mean you get to go to all the movies?
Yes, beyond just being here together and having a sort of vacation on the Riviera, it's nice. The odd thing about being an actor at a film festival is usually when you're there with a movie, you usually never get to see any of the other movies because you're working, working, working, and then you're gone. So this time we actually get to take the time to see the films and there's absolutely no pressure for me. All I have to do is enjoy them.
Have you met her fellow jury members?
Yeah, I did today. We went to the films together, and it seems like a lovely gang of people, a good crew to be a part of, actually.
Will she scrap with anybody?
I don't think that there's a chance that if Diane has a strong opinion about something that they won't all hear about it. I know this to be true.
Outfit?
I am neck-to-ankle in Calvin Klein and shoes by Lanvin. These are my own. Sadly, I'm just the guest, so nobody was rushing to send me clothes this afternoon.
They're sweet kicks.
They are pretty sweet kicks. They're my dress-up sneakers.
Is that something a man should always own?
I don't know if it's something a man should always own, but there are many new things in my closet over the last six years that apparently are essentials, yes.
That Diane got for you?
That just miraculously appeared. Things I used to own disappear, and all of a sudden I own new things that just showed up in my closet that now are my dress shoes. The little German fairy that goes into my wardrobe makes sure I'm presentable in the morning. And these showed up.
Do you give her style tips?
Uh, no. My advice is always either, "Yes, I like it," or "I don't understand." Other than that, she's got it.