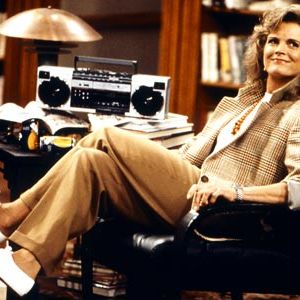 Photo: Courtesy of Warner Bros.
The Nostalgia Fact-Check is a recurring Vulture feature in which we revisit a seminal movie, TV show, or album that reflexively evinces an "Oh my God, that was the best ever!" response by a certain demographic, owing to it having been imprinted on them early. Now, years later, we will take a look at these classics in a more objective, unforgiving adult light: Are they really the best ever? How do they hold up now? We've already reconsidered a number of once-beloved entertainments. This week, we consider the seminal working woman sitcom Murphy Brown.

Background: It was twenty years ago this month that Vice-President Dan Quayle made moronic-election-narrative history by giving a speech in which he essentially blamed the recent Los Angeles riots on Murphy Brown. "Bearing babies irresponsibly is, simply, wrong," Quayle told his California audience. "It doesn't help matters when prime-time TV has Murphy Brown — a character who supposedly epitomizes today's intelligent, highly paid, professional woman — mocking the importance of fathers by bearing a child alone and calling it just another 'lifestyle choice.'" The night before on CBS, unwed Murphy had given birth to a baby boy on the season finale of the popular sitcom; it was the most watched prime-time show of the week. The tabloids loved Quayle's speech (the Daily News: "Quayle to Murphy Brown: You Tramp!") and President George H.W. Bush and Bill Clinton, campaigning for the fall election, both weighed in.
If FYI, the fictional weekly newsmagazine show around which the action at Murphy Brown centered, had covered the Quayle speech aftermath, they would surely have sent Murphy herself. The creation of former Vogue TV columnist Diane English, Murphy was a brash, single, fortysomething investigative reporter who fielded calls from Ghadafi and Cronkite, and got maced at the Democratic convention in '68. But she wasn't afraid to chase a juicy story for ratings, either.
Murphy Brown debuted in 1988 and ran for ten seasons. Reportedly, the network wanted twentysomething Heather Locklear to play the title role, but English fought for Bergen, and it's impossible to imagine anyone else as Murphy. The Dan Quayle moment made her a symbol of nineties feminism, and nearly every Serious Topic she tackled — single motherhood, medical marijuana, and breast cancer — launched a national conversation and, often, conservative ire. By the fifth season, Murphy Brown was the most expensive show on television for advertisers. The show hovered in the top twenty of the Nielsen ratings for most of its run, and Bergen remains the only actress to have won five Emmys for playing the same character.
Nostalgia demographic: Baby Boomer women who saw themselves as Murphy-esque career pioneers; their thirtysomething daughters who grew up watching the show with them; Washington journalists pining for the glory days when they could credibly be cast as the good guys in a prime-time sitcom; Dan Quayle.
Fact-check: Despite the show's cultural clout during its ten seasons on CBS, Murphy Brown was a flop in syndication, and the DVD of the show's first season reportedly sold so poorly that plans to release future seasons were scrapped. (The high cost of the show's Motown music soundtrack — more on that later — was also a factor.) But within the last few months, Murphy has popped back into the Zeitgeist. The cast reunited on Good Morning America in April, and English told TV Guide that she was in talks with CBS about producing a few pre-election specials. The current season of 30 Rock featured an episode titled "Murphy Brown Lied to Us," in which Murphy's TV spirit-daughter, Liz Lemon, utters the title phrase to explain why she's abandoned her dream of becoming a single mom.
I grew up watching Murphy Brown as a preteen in the Midwest with my own single working mom. In my misty memory, Murphy was the archetypal badass feminist, the rotating-secretary gag was a hoot, and the references to politics made me feel like a D.C. insider. Then again, at the same time I adored Murphy Brown, I also loved a short-lived sitcom called Thea in which the sassy title character's catchphrase was "See ya!" Would Murphy Brown remain the groundbreaking, hilarious feminist comedy of my tween memory, or was it just another dated nineties workplace sitcom with absurd shoulder pads?
Let's start with what doesn't hold up. Murphy famously cycled through 93 secretaries over the course of the show's run, dismissing all of them for one wacky reason or another. (Smoking in the office! Not speaking English!) The secretary gags are broad and gimmicky, and though I suppose they're meant to illustrate Murphy's toughness, they read like a serious problem with the secretarial pool at FYI's network. The scenes at home with Murphy's loopy house painter, Eldin — never a highlight, but a necessary plot mechanic so Murphy would have someone at home to talk with about the office — have taken on a grim pall since actor Robert Pastorelli was found dead of a heroin overdose in 2004, under renewed suspicion over his girlfriend's shooting death. In one especially painful season-one scene, Eldin fights with a volatile girlfriend on Valentine's Day.
Hey, remember PMS jokes? You will after you watch the first season of Murphy Brown, because there are tons of them, starting with Murphy attributing a rogue interview question in the pilot to her period. The first season also includes a noticeable number of Dan Quayle one-liners (Murphy's ice-cold mom: "You can't let people get away with shoddy service. It starts with overcooked meat and ends with President Quayle.") You have to wonder if Quayle resented the show long before Murphy's family-destroying "lifestyle choice."
There is also so, so much dancing and lip-synching to Motown. Murphy sings solo to "Natural Woman" in her living room; she blasts "Signed, Sealed, Delivered" on her headphones at work; and the whole gang croons "You Keep Me Hangin' On" during an on-air hostage situation. The motif reoccurs so often the show began to feel like Glee featuring middle-aged people who can't sing or dance. Between Murphy Brown and The Big Chill, white Baby Boomers apparently spent the entire eighties belting out Motown hits in pastel blazers.
But Murphy Brown still has its pleasures. Murphy's co-workers at FYI go beyond the stock characters they sound like on paper (er, screen): Stiff anchorman Jim Dial, randy reporter Frank Fontana, ditzy features gal Corky Sherwood (who goes on to marry a lawyer named Will Forrest, GET IT?), and yuppie executive producer Miles Silverberg. Shockingly, the references to D.C. journalism aren't quite as insider-y as they seemed to me as a Midwestern preteen, but, hey, I still like a good Ed Meese joke. And call me a sentimental old fool, but the ditzy blonde thing still has the power to crack me up, too. When Corky pitches interviews with Indira Gandhi, Golda Meir, and Margaret Mead, only to find out none of them are alive, she yelps, "All women … all famous … all dead. I think I'm on to something!" I laughed, I admit it.
But the show's biggest strength is its title character. Candice Bergen plays Murphy more broadly than I remembered, and the laugh track matches her occasional mugging, but she's still a dynamite figure. If Mary Tyler Moore, Murphy Brown, and Liz Lemon are the sitcom world's great trio of single ladies working in television, Murphy is notable for being not at all girlish, helpless, scatterbrained, naive, pathetic, or "adorkable" in any way. She is a grown-up who works hard, understands the sacrifices that come with that, enjoys sex, and is totally comfortable with her success. In a moment when TV is overflowing with girls, Murphy Brown is unmistakably a woman.