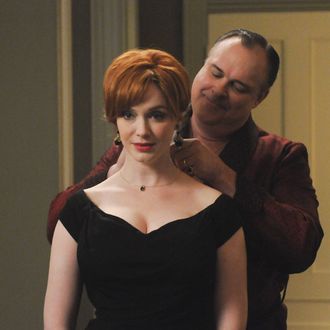 Photo: Michael Yarish/AMC
Most companies would be thrilled to appear in a multi-episode arc on Mad Men — that is, until one of its fictional executives sparks one of the most salacious plot lines in the show's history. Yet, David Pryor, VP of brand development for JaguarUSA, tells AdAge that he thoroughly enjoyed seeing SCDP woo the brand this season, even if the experience was sullied a bit with talk of mixing business and prostitution.
Mad Men researchers contacted Jaguar's archivist about what the brand's advertising and showrooms looked like in the sixties, but the company wasn't given any input in the story (or even a heads-up about the potential PR problem). Pryor, who's a "big fan" of the show, had no idea what was coming when he sat down to watch Sunday's episode, and says, "I would say we were fairly surprised at the turn of events," adding, "Obviously it was kind of tainted … with the storyline."
However, Jaguar isn't concerned that Mad Men viewers now see every executive at the company as a slimy medallion-wearing john. "We're confident that people know it's a fictional character," said Pryor.
Rather than launching its own attack against one of TV's most critically acclaimed shows, Jaguar has wisely chosen to focus on the silver lining in the unflattering portrayal: The potential to tie the advertising brilliance of Don Draper to its new "How Alive Are You?" campaign. "One connection I liked was, they went down this emotional path," Pryor explained. "They weren't trying to sell the car, they were building on this emotional connection, this love, this lust that people had for the brand back then and that we're trying to recreate now." Fair enough, but the tag line still need a lot of tweaking if they're hoping to find the next Kodak Carousel.