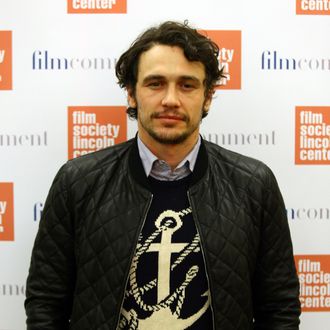 Photo: Neilson Barnard/Getty Images
First things first: James Franco has actually been blogging over at HuffPo for a few weeks now — he wrote about his trip to New Orleans, and how the New York Observer hurt his feelings — but Vulture did not immediately alert you, because Vulture understands that it takes a little while to develop a blogging rhythm. We wanted James to have his space. But the time has come, friends, for James Franco has just written a long essay about the HBO lightning rod that is Girls. What does James think?
1. James Franco isn't big on television.
I don't watch much TV, but strangely I have watched most episodes of HBO's new series Girls.
2. He can identify with the struggling artists on Girls, even though he is no longer a struggling artist himself.
I'm not saying I have to struggle to pay the rent like Lena Dunham's character, Hannah, but there was a point, right before Judd cast me in Freaks and Geeks, when my parents cut me off because I wanted to go to acting school instead of UCLA. I worked at McDonalds, and my first suggestion to Hannah would be this: get a fucking job.
3. James Franco thinks Lena Dunham is awesome. 
No matter how many stupid things Hannah says to strangers, how embarrassing her sex scenes are, how awkward she is with adults, or how little writing she actually does, Lena will always shine through as the admirable creative force behind everything on the television screen (or, in my case, computer screen).
4. And he's heard about Girls' whiteness problem.
This is a pretty hot topic, and one I like to ask my female friends in New York about. On the graduate-school circuit, the answer I usually get is that it's a controversy over nothing: people just need something to write about on the Internet.
5. But he thinks it's a valid topic.
Supporters of the show usually say its lack of diversity reflects the social segregation of our country, and they have a point … I guess all I have to say about the topic is that, because TV is such a popular medium, HBO has a responsibility to represent its subjects accurately, especially when the network is selling a show as a representation of young New York.
6. He also thinks the men on the show are lame.
I've read comments about Girls that said, in a nutshell, "I like the show, but I can't see me in the show." I feel the same way. The guys in the show are the biggest bunch of losers I've ever seen.
7. James Franco loves Steel Magnolias.
I am fine watching a show about women dealing with men I would never want to be. I watched Steel Magnolias incessantly when I was in junior high school, and I can get off on female bonding. Done right, it's more interesting than male bonding.
In conclusion, James Franco really likes Girls.