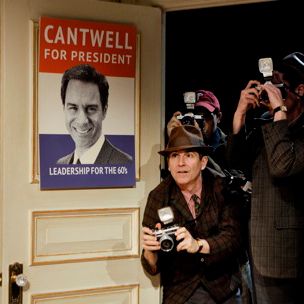 James Lecesne has been a little further around the block than most understudies. Before taking his part on Broadway this past spring — a tiny role and a couple of understudy parts in The Best Man — Lecesne had already won an Oscar for a film short, written a couple of YA books, launched a gay-teen suicide hotline, and created and starred in an acclaimed one-man show. But when Best Man co-star Michael McKean was hit by a cab last Tuesday and Lecesne was chosen to replace him in the role of John Larroquette's campaign manager, he was as flustered, anxious (and yes, elated) as any ingénue who suddenly gets a shot. He spoke with us about his new star turn.
Where were you when you found out about McKean's accident?
I was teaching a class at the New York Film Academy, on story and structure for documentary filmmakers. It went from about 2 to 4:30 p.m., and I noticed that my phone kept buzzing, but I was into what I was doing. When I got out of the class I was in Union Square, and I listened to a message from [stage manager Matthew Farell]. He said, "I hope you've been getting my messages, because Michael's had an accident. He's fine, but he's not going to be going on tonight. You are." 
What did you feel in that moment?
I swear, I just completely left my body. We rehearse the parts once a week, and you really don't know if you're prepared. And then I had a moment where I just went, "I'm gonna do this." I just made my mind up that I was going do it and I was going to be good. That was about a quarter to five and the curtain is up at seven o'clock. My first thought was, Where the hell can I get somebody to walk my dog? And I just jumped on the subway and went directly to the theater.
What was it like when you got there?
Everyone was sort of scrambling; there were costume things that had to be decided. We didn't really know anything about Michael — all we knew was what we had heard on the news. And with twenty actors, a lot of them wouldn't know until they came to the theater at half-hour. There was a lot going on, let's put it that way. That was when I made the second decision — that I was going to be as calm as I possibly could just so everyone else doesn't freak out. I went to see John Larroquette and he said, "Oh, you'll be fine, you'll be fine." And once I got dressed and in costume I went and saw Angela [Lansbury] and James Earl [Jones] just to show them who I was going to be, who they were going to see onstage, so they didn't walk out onstage and go, "Who's that?"
There must have been such a weird mix of thrill and alarm churning inside.
But you have to turn down the volume on both your thrill and the bad circumstances that have put you there. While I was on the way there, a good friend of mine who's an actor sent me a text that just said, "Listen." And it was the best advice that anybody gave me. Because I knew that once I went onstage, whatever happens, if you're actually listening to what the other actors are saying, you have a better chance of responding in the right way, no matter what's going on, whether you remember the line or not.
And have you had any slip-ups so far?
Especially in the first couple of days there'd be those moments when John Larroquette would be looking at me in a very peculiar way. And I'd be like, "Oh my God, it's my line." That is like a terror, just when you're quiet for too long. And then there was the curtain call, which I thought was hilarious. I take it with Corey Brill and Jefferson [Mays] and Dakin Mathews — but Michael McKean was the one who led the bows. So we came out and we just stood there and they were just waiting for me! It seemed like we were really milking the applause.
But overall, do you think you stuck it?
From my point of view, I didn't embarrass myself, and I didn't screw up. Nobody's mad at me at the end of the week. I said yesterday, after the show, "Can you imagine how different this week would be if I'd really sucked on Tuesday?"
This was your first time as an understudy. Did it feel like a new challenge, despite your stage experience?
It's almost like a different art form. As an actor you make choices that are either right or wrong, and you find the ones that are right for you. As an understudy, the choices have been made, so you have to make those choices right. Going into the role you can't really question it. You have to find your route to his choice in order to be able to support the other actors. If I had done something completely different, it would have completely upended the play.
Being in a one-man show involves impersonation, in a way. Did you feel that you had to impersonate Michael McKean as much as the part of the campaign manager?
I don't feel like I'm impersonating him because I don't think I could. I'm finding a character that is like a cousin to the one he created. I noticed that he gets some laughs that I'm still trying to get. There's one in particular that I'm determined to figure it out. So that's fun. It's like being a detective.
It doesn't look like Michael McKean will make it back to this show. Are you in through the end of the run in September?
There are going to be some cast changes in July — Candice Bergen and Eric McCormack are leaving — and they're going to be replaced. So it's uncertain about me, whether they'll go for a name person. Those are decisions that are out of my hands as an actor. I mean, on one level, it's slightly comical. I'm five-foot-seven and John is six-foot-something, so the disparity between our heights, it's almost — you know what I mean? I don't know what it looks like from out front, I just have to do as good a job as I can from inside.
Do you feel like you're auditioning for the permanent slot?
This is a business in which you're always auditioning. But regardless, I'm just enjoying every performance. One of the great things about this past week has been just really getting to exercise my chops as an actor. I'm playing a part that maybe I wouldn't ordinarily have been cast in — somebody with perhaps more gravitas or authority than I have naturally. So I'm just loving it. If you're gonna have an understudy experience, this is classic.