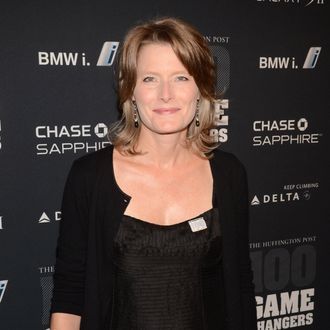 Jennifer Egan.
Photo: Andrew Toth/PatrickMcMullan.com
News many will be quickly thrilled by: Brooklyn author Jennifer Egan has composed a short story revolving around a character from her 2011 Pulitzer winner A Visit From the Goon Squad. News many may be instantly worried about/fearful of/angered by: This story, an 8,500-word piece, will debut on The New Yorker's NYerFiction Twitter account Thursday evening and be serialized over the span of ten nights, with one tweet posted per minute between the hours of 8 and 9 p.m. Eastern. Each tweet is a new entry in a spy's mission log; the tale is titled "Black Box."
With this total #tableflip of majorly visible serialization of fiction less than twelve hours away, let's take quick stock of things that may and may not be awesome about Egan's idea and its execution.
POTENTIALLY UPSETTING
• This is a story made of 140-character bursts. In revision, Egan checked the lengths using Twitter's fascist little character-counting box. 
• Tweets en masse can be suuuper annoying. Even the tremendous rants of Kanye West et al. would become tiresome if purveyed every minute for an hour. (Counterpoint: This is not that; this is a known event you can happily plan for or easily evade.)
• But seriously, even just a tweet here and there can be obnoxious, really.
• When published in The New Yorker proper (in the May 29 edition, the mag's first sci-fi issue), the story will eschew The New Yorker's iconic font because that font just does not work with tweets. So "Black Box" will appear in Neutra Face (take a look, ya fontaphile), a sans serif font that's never appeared in the body of The New Yorker — which could actually be classified as a cool thing if you enjoy change, but when a publication's typeface possesses this level of consistency, that may not be a fun space for change.
POTENTIALLY MAGNIFICENT OR AT LEAST GOOD
• Egan wrote a piece of short fiction as a listicle for The Guardian last summer and that didn't suck.
• A chapter of Egan's completely Pulitzer-deserving Goon Squad is, famously, presented as a PowerPoint slideshow, and that really doesn't suck. It's one of the novel's most subtly heartbreaking and observant.
• The Twitter idea was not a lark — Egan spent more than a year putting "Black Box" together, learning how "to control and calibrate the material," writing in a Japanese notebook with eight rectangles per page. (By comparison, Egan has called the stunningly ambitious Goon Squad almost exactly that — "kind of a lark.")
• Say what you will about Jonathan Safran Foer, but his New Yorker short from 2010, "Here We Aren't, So Quickly," was fairly experimental in its telling, and terrific. Basically, fiction editor Deborah Treisman knows what she's doing. She knows the hell out of it.
• Each night at 9 p.m., when the tweet-dust has settled, The New Yorker's site will post "a summary" — which hopefully means "the full text" — of each night's 60-tweet installment of "Black Box."
• Egan doesn't even really like Twitter! (Not in a regular-person fashion, anyway — before today, she had only tweeted four times ever. IN HER WHOLE LIFE. This is how it made her feel: "I felt tongue tied. It seemed phony. I felt really self-conscious.") So that's a good indication that this story was probably done for the love of the idea, not necessarily the novelty.
• And the Times assures that "Ms. Egan said that when she was writing, she struggled not to make the language sound 'gimmicky' or 'cartoonish.'"
• Lastly, this, from Egan's brief breakdown of the process: "This is not a new idea, of course, but it's a rich one — because of the intimacy of reaching people through their phones, and because of the odd poetry that can happen in a hundred and forty characters."