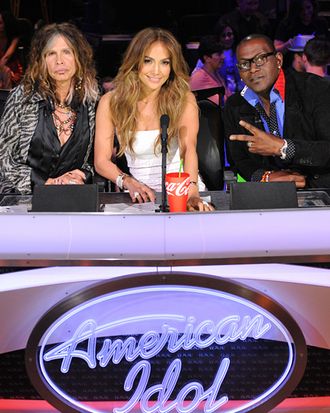 AMERICAN IDOL: L-R: Steven Tyler, Jennifer Lopez and Randy jackson on AMERICAN IDOL airing Tuesday, Feb. 28 (8:00-10:00 PM ET/PT) on FOX.
Photo: Michael Becker/FOX
Jennifer Lopez said this week on Ellen that she doesn't know if she'll return to Idol next season, and now E! is reporting that she's as good as gone. According to that report, J. Lo is "too busy" for Idol now, which is pretty much what she said on Tuesday. "I miss doing other things," she said. "It really does lock you down." Oh Lord, are we really going to do the whole Idol judge shuffle again?