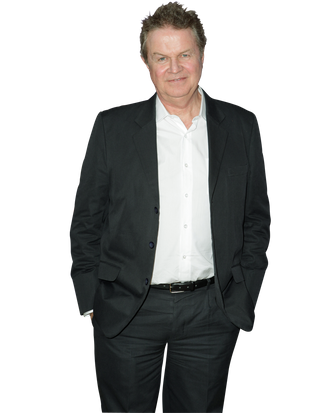 John Madden.
Photo: ALEXA HOYER/Patrick McMullan
The Best Exotic Marigold Hotel follows a group of retirees — Judi Dench, Tom Wilkinson, Bill Nighy, Penelope Wilton, and Maggie Smith (the latter two on loan from Downton Abbey), among others — as they attempt to "outsource" their old age by moving to India. Adapted from Deborah Moggach's novel These Foolish Things, the film finds each of them at what they thought was a dead end, either through lack of money, loss, physical infirmity, or just the wrong marriage, and then turns them around with new loves, new jobs, and new prospects in life. Director John Madden, who last gave us The Debt, chatted with Vulture about his superhero team-up, the chaos of India, and the story behind one of the film's inside jokes.
You're awfully brave to be going against The Avengers, but perhaps this cast is a superhero lineup of its own kind?
Right! In our third week of release in the U.K., we went against John Carter and won. And in Australia, we beat off quite a number of tentpole movies. Who knows? I find the whole idea of a bunch of sexagenarians and septuagenarians taking on the might of the big studio tentpoles very funny. It's never going to be competing on the same playing field as those films, but if the film could have a long run here, nothing would make me happier. It's shown good form elsewhere. Tell me, who is in The Avengers?
Robert Downey Jr. is Iron Man. Mark Ruffalo is the Hulk. Chris Evans is Captain America. Chris Hemsworth is Thor. Plus various S.H.I.E.L.D. agents like Samuel L. Jackson as Nick Fury.
It's all of them, isn't it? Oh, God.
We were saying Judi Dench is your Iron Man.
[Laughs heartily.] That's great. I like it. So which one is our Hulk? Maggie Smith or Penelope Wilton? Both of them are up to the task. Bill Nighy is our super soldier. And Tom Wilkinson — Thor? That's so funny. I like it. It's a good formalization. It was a daunting prospect for Dev [Patel], because that was not a third-league group he was moving in with there [to play the hotel manager]. He can talk the hind leg off a donkey. I'd love to see him running a talk show. I think he could do that brilliantly.
You've worked on multiple occasions with Judi Dench and Tom Wilkinson. What was it like tooling around India with them? I heard motorcycles were involved.
Yes, Shakespeare in Love. Neither of the cyclists in the film had any acquaintance with a motorcycle prior to the film. I guess they all got up to various things, because they tended to be working two days out of six. Some explored and some didn't. The reactions to India were not in exact correspondence to their characters, but it fit the range that you see in the film, from Penelope Wilton's character [who hates it] to Bill Nighy's character [who loves it] and everything in between. I think the vast majority of them were dazzled by the place. It's hard not to be.   
Did you ever get sick from the food?
Yes, I did. And the cinematographer did. But none of the cast did. Well, they might have got a bit pale at one point. We always thought it was going to be a huge problem, but it turned out not to be. There are various other dangers that assail you, not strictly to do with food and its inevitable consequences.
What was it like shooting on the streets of Jaipur?
The production company would keep saying to me, "We should just clear the street." And I said, "No! I'll never be able to create anything that looks remotely like this. We'll have to find a way to work with the chaos." Which bureaucratically is difficult because they don't want to give you permission to shoot on the streets, because then the streets stop and the businesses complain, and suddenly they've got a huge political headache. So negotiating that was tricky. But I loved that wherever I was standing, I would have a cluster of literally twenty people looking over my shoulder, and sort of pointing at the diagrams I had made. And there was nowhere you couldn't point the camera and find something going on — a sewing machine making its way down the street on top of somebody's head, or two guys negotiating their way around a roundabout with a ladder.
Was it a bit of an inside joke that Penelope Wilton's character is reading Tulip Fever? That was another Deborah Moggach book you once wanted to turn into a film.
Oh, you spotted that? [Laughs.] I actually started on that film, we got eight weeks into shooting it, with Jude Law, Keira Knightley, and Jim Broadbent, and DreamWorks was financing it. But it was being made back in 2004 with the benefit of a tax structure that was suddenly rescinded by the Labor government, and we were one of about twenty films that went down on that day, and since we were one of the most expensive, with a big set — seventeenth-century Amsterdam — we couldn't get it up again. It's sad, because it was a [Tom] Stoppard script. Brilliant project. So it was just a little nod to that.
You just shot a pilot here in New York — Masters of Sex with Lizzy Caplan and Michael Sheen. How did that go?
I've never shot in New York before, and I was really relishing that opportunity, but we ended up only shooting one scene in Manhattan, at the Union Theological Seminary, which is part of Columbia, because a huge amount of the story takes place at a hospital. We found this decommissioned hospital out in Queens, a former tubercular hospital, and we built a set there. We knocked down one floor and rebuilt it. And we had a bunch of shooting on Long Island. So it wasn't the kind of raw New York experience I had hoped to have. But the show is certainly raw, in another way! [Laughs.]