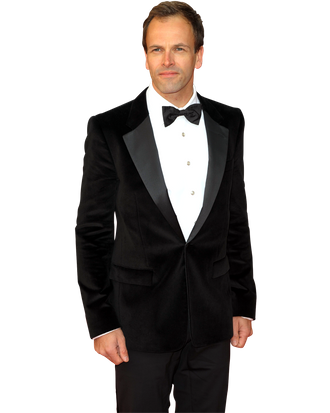 Jonny Lee Miller.
Photo: W Johnson / Splash News
In this week's Dark Shadows — Tim Burton's very Tim Burton–y adaptation of the seventies soap opera — Jonny Lee Miller plays the petulant brother of the Collins clan, a family whose life is upended when their seventeenth-century vampire relative, Barnabas (played by Johnny Depp), is awakened. Though Miller is still most fondly remembered for playing Sick Boy in Trainspotting, the guy's got a lot of work under his belt, including the titular role in ABC's now defunct Eli Stone; a super-eery turn on season five of Dexter; and the alternating leads (alongside Benedict Cumberbatch) in last year's Frankenstein at the Royal National Theatre. The latter of which is sort of odd, given that both Miller and Cumberbatch have added Sherlock Holmes to their repertoire (Cumberbatch is starring in the BBC's version; Miller is hoping his pilot Elementary gets picked up). Vulture talked to Miller about the pilot, what it's like to be "very Dark Shadows," and the Depp-Burton shorthand.
Had you seen any episodes of the Dark Shadows TV show before signing on for the film?
I had not. I saw some of it when I came onto the set, but I was born in 1972, so I was a little young for it.
How did Tim Burton describe the project to you? It's pretty eccentric.
He's a very enthusiastic guy, Tim. I had read the script before I went to meet with him and he told me that I was "very Dark Shadows." I obviously had no idea what that meant, but I was very happy to hear it!
Had you guys met before?
We had not. I was obviously very familiar with his body of work and when he asked to sit down and meet, he told me about the project and just straight up offered me the job. So it was a pretty amazing ten minutes. [Laughs.]
Did you find that the seventies look you adopted for the film suited you? Are you going to start to wear shirts with huge collars from now on?
I think I've gotten my fill of huge collars during the making of the movie. But it's pretty funny: I really loved the costumes. Not necessarily loved them for me, but they are so … they make you walk in a different way, these outrageous suits. Colleen Atwood's costume design blended what I'd call genuine seventies clothing with a Burton-esque style, if I may use such a word. It's sort of got a Gothic-y sensibility. And that's really also a massive theme in the production design. I like that, if you look at Tim's artwork, you'll see it's in there as well. And yet, the film has a massive seventies flavor to it. That's really Dark Shadows' palette, if you'd like.
Did he show you drawings before you got on set?
No, but once you walk onto the set, you see that this entire world that Tim's created is all there. I came onto the project late so I didn't really have time. I was concentrating on getting the wig right, the costumes right, if Tim's okay with everything. And then you walk on, and this incredible set's been built and that's really the film's world. It hits you like a ton of bricks.
Did you find that Tim and Johnny and Helena Bonham Carter had a shorthand way of communicating that you had to catch up with?
Oh, definitely. It's not exclusive. You watch them working together and they definitely work together like people that have worked together many times before and know each other very well. But Tim's great skill as a director is being able to involve all the other actors he hasn't worked with and making them feel just as included. That really sets great directors apart from good directors, their ability to make you feel like you matter, even if your part is much smaller. That's one thing I found with most of the great directors I worked with: They all have that skill. Not everyone takes the time.
To switch gears a moment, you may be returning to TV soon with Elementary. Did you have any reservations about returning to TV after having done Eli Stone?
No. You know, there are always reservations for every project, but I'd more recently shot six episodes of Dexter and … what else did I do? I did Emma for the BBC. So it's a much more fluid profession at the moment. You're much less pigeonholed these days. Also, the quality of roles and writing is much more evenly spread between movies and television. There are some great shows on TV these days. We just shot the pilot for Elementary. We're still waiting to hear what happens with it. We're not sure yet; we're taking it slowly. But it was just a great project. And a good opportunity for me. So that's the way you weigh those things.
Do you have any of the other recent Sherlock Holmes adaptations in your head, like the BBC show or the Guy Ritchie movies?
Yeah, you obviously you look at it and say, "Wait a second … " But I feel there's enough differences there. I thought I could do something with it; otherwise, there'd be no point.