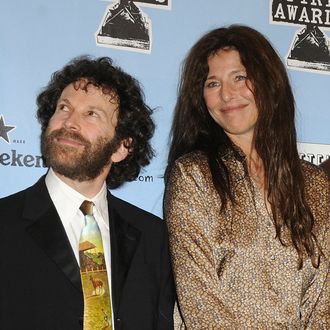 Kaufman and Keener. (Getty Images)
Deadline reports that frequent teammates Catherine Keener and Charlie Kaufman are developing a half-hour comedy series for HBO. The premise of the as-yet-untitled project sounds appropriately Kaufmanesque: "An exploration of one day in a woman's life and how the events leading up to it can affect, or not, the reality in which she lives." Keener is set to star and produce, with Kaufman acting as executive producer, writer, and director.
The show, which has been fast-tracked by the network, will mark two-time Oscar nominee Keener's first foray into television. It makes sense that it'll happen on HBO, which has gone on a female-driven comedy kick recently, renewing Enlightened — starring another Academy Award nominee, Laura Dern — and debuting Veep and Girls.