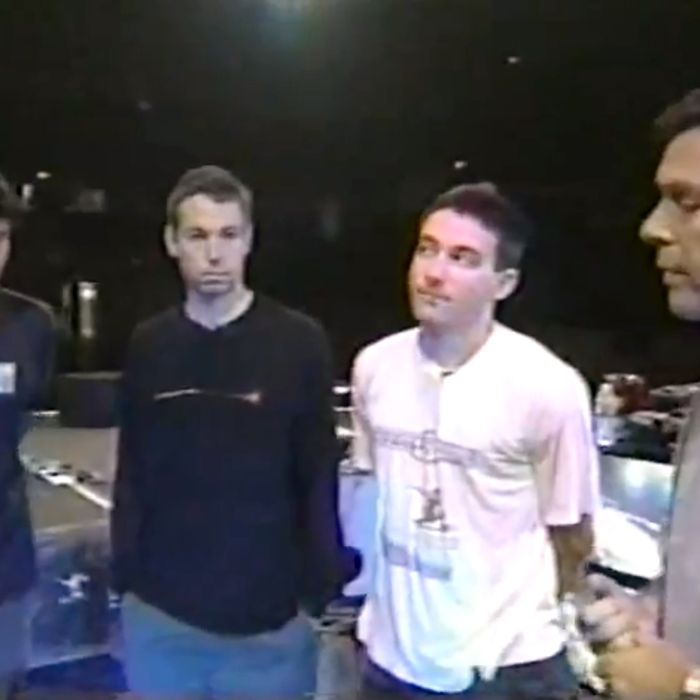 The Beastie Boys with Kurt Loder.
Photo: MTV/Youtube
In the eighties and nineties, the Beastie Boys represented a key intersection between rap music and punk-style rock. They took their unique musical fusion from the streets of New York to the top of the pop charts, and they did it without ever sacrificing their street credibility. You figure that the group would be an iconic fixture in the lives of many musicians who came of age in those days, and you'd be right. But when Beastie's bass player Adam Yauch died last Friday, after a three-year fight with cancer, the wide-ranging ripples of sorrow stirred by his passing were a tribute not only to the extensive influence of one of New York's greatest bands, but to its gentlest and possibly its most creatively ambitious member. (He also headed indie-film distributor Oscilloscope Laboratories.) The tributes are still forthcoming, but over the weekend, Vulture checked in with a motley crew of folks from a variety of media fields to see what kind of mark MCA left on their lives. From comedians, actors, documentary filmmakers, street artists, D.J.'s, former MTV News anchors, to, of course, musicians, they had sad thoughts and some happier memories. Here are a few:
David Cross
My Beastie Boys fandom goes back to 1983, when I got "Cooky Puss" off the radio — that's how far back it goes for me! We had a deep connection, even though neither of us knew about it, because they used a sample of a voice I did on one song. 
Later on, I did a short film that Adam directed and storyboarded on the DVD Awesome, I Fucking Shot That, where I was Nathaniel Hornblower [Adam Yauch's alter ego], a character I reprised for the Fight for Your Right (Revisited) video. And all of that was his idea. He told me the premise, which was very arch and comic, and because it was a role he had played before, he wanted to act like his was the spoof and mine was the reality. I thought it was a pretty cool idea. I could tell Adam was a really awesome guy with a big heart, and the time we spent together, I really cherished and appreciated. I'm usually grumpy, and I don't know if he was overcompensating because he was sick, but his spirit and energy were impressive. I never saw him as anything but pleasant and smiling. If he was uncomfortable, he didn't show it. We did the short film so down-and-dirty, stealing shots in Soho. At one point, we needed a factory shot, so we stormed Jacques Torres, for the chocolate factory look, and they were screaming at us: "What are you doing? Get out of here!" I was in an Austrian-Swiss-Germanic costume, lederhosen, with full makeup and a wig, and we'd be going down streets like Mott or Mulberry, hopping fences, grabbing shots, hiding the camera to get everyone's reaction — one of those things. For one scene, I played chess with myself. There wasn't a lot of time for feedback, but I'd know if it was good if he started laughing.
In Fight for Your Right (Revisited), you only see me for a few seconds — I pass the hot-dog cart and got run into by Elijah Wood — but it was really, really cool. I remember we were shooting that one on the Warner Bros. lot, and they were also shooting the Muppets movie there, which was fucking massive compared to us. We just had a side street, even though it was star-studded. And he made all of us feel very welcome, even though we were all in and out. It was such an honor to be asked to come in and do that homage to Adam. Adam and I would talk at his office about documentaries. And he was a big fan of Mr. Show, so we talked about the parody of Hoop Dreams on Mr. Show. But really, my memories are just of hanging out with a guy who had a passion for art in every single form. He was just a really good guy.
Chuck D
Last night, I took a fourteen-hour flight to Sydney, Australia, from Los Angeles, embarking on Public Enemy's 80th tour in 25 years. I just landed — to 65 texts with the news. Adam and the boys put us on our first tour 25 years ago. They were essential to our beginning, middle, and today. Adam especially was unbelievable in his support from then until now, even allowing me to induct them into the Rock and Roll Hall of Fame. I consider myself a strong man and my father says to be prepared to lose many in your post-50 path of life. Still, I'm a bit teary-eyed leaving this plane. R.I.P. Adam a.k.a. MCA.
Michael Rapaport
For me, growing up in New York City, I was already into hip-hop before the Beastie Boys came out, but they were amazing, straight up, for a white kid. I felt like I wasn't the only white kid into it, because we were few and far between at that point. The crazy thing about the Beastie Boys is that no one ever says, "They suck" or "I hate the Beastie Boys." Everybody likes the Beastie Boys, and especially Adam, because he wanted to expand things. They inspired me. I looked up to them.
So it was huge for me to interview all three of them together for the documentary Beats, Rhymes, and Life: The Travels of A Tribe Called Quest. I'd met them in the past, but there are certain people you don't ever feel fully comfortable around because you're such a fan, and I'm always going to be a fan of theirs. I never got over that. The impression I got was that Yauch was the straight guy, sitting in between these two comedians. And I was going, in my head, "Oh, shit! This is MCA!" while I was interviewing him. And they were so generous. They answered every question. They were cool, and that meant a lot.
Yauch was so supportive and encouraging of the film. When I saw him at Sundance, as the movie was first premiering, he wanted to talk about doing the film through Oscilloscope. And I thought, Oh, wow! I'm going to have a meeting with Adam! I was really, really nervous, because I held him in such high regard as a musician, as a Beastie Boy, as a filmmaker. So we were sitting in the lounge at Sundance, and he was just really sweet and supportive, and his compliments meant more to me than any regular person's comments, you know? Because he was in the know. He was established on his own. And he was a low-key dude, very soft spoken, very articulate, with a raspy voice. He said, "I didn't know all those things about Tribe, and I've known them for twenty years. You did a really good job." And so I remember, I called up my mom afterwards, and I was like, "He told me he really liked it!" I was so happy. His nice words meant more to me than anything, especially at that point in making the film. It was like a rubber stamp of approval. I revered those kind words. I still do.  
Santigold
Though I've been a fan of the Beastie Boys since I was 12 years old (there is a lost tape of me performing "(You Gotta) Fight for Your Right (to Party!)" with my friends at the mall), I got to know Adam when I had the opportunity to work with the Beastie Boys on the song "Don't Play No Game That I Can't Win" for the Hot Sauce Committee Part Two album. Adam was what I call an instant friend. He was someone whose warmth, honesty, and generosity were felt immediately. As an artist, he is a legend. He is the kind of artist I've always aspired to be like; he was the epitome of a new kind of cool. He was hilarious, a visionary, talented on so many different levels from music to film, he was socially conscious, spiritually aware, an activist, and he was always humble and down-to-earth. It was such an honor to have known him, and I will miss him. This is such a monumental loss, not just for the music and film communities, but for the whole world.  
Shepard Fairey
When I was a teenager, I discovered a New York thrash compilation with a Beastie Boys song. At the time, when I was growing up in South Carolina, I was into punk rock and skateboarding, and white kids were a little hesitant to embrace hip-hop culture — we weren't sure we were racially qualified. But with Licensed to Ill, the Beastie Boys helped us be more open-minded. My least favorite song of theirs was "(You Gotta) Fight for Your Right (to Party!)" because it had a frat-boy vibe to me, but I loved their sort of snarky humor and the mischievousness on the rest of the album, and it completely resonated with me. You know how people say they listened to a tape until it was worn out? My copy of Licensed to Ill was like that; it was a squeaky thing. All my friends loved it, and we thought it was cool to blast it out, carrying around a big boombox. I've been a fan ever since then. Hip-hop was the new punk rock, and I wouldn't have embraced that if not for the Beastie Boys. They opened the doors for a lot of people to be more courageous about blending genres. And once the optimism started creeping into it, with the idea of bringing positive things to the earth and making an impact, you could tell Yauch was fueling that. I especially loved the line in "Sure Shot": "I want to say a little something that's long overdue / The disrespect to women has got to be through." That, after all that stuff to do with women dancing in cages on the Licensed to Ill tour or whiffle-ball bats on "Sure Shot"? It showed a lot of musical and personal growth, and I think Yauch was a big part of that. Talking about what was going on in Tibet? That was Yauch's doing. I always loved the Clash, Public Enemy, and Bob Marley, and I craved a group that could take such a visceral medium and give it a layer of social commentary and responsibility, and the Beastie Boys did that, with Yauch spearheading it.  I did some art for the Dalai Lama a few years back, and Yauch liked it. He hit me up for using it for a DVD package of a series of Dalai Lama talks for Oscilloscope, and I felt so fortunate to be doing something that touched two of my heroes, so I made him a painting version of it. A lot of what I do is about the cycle of representation, so having what I made be inspiring to the person who inspired it was really surreal. 
Henry Rollins
The thing that always stands out to me about the Beastie Boys is how consistently great their records were, how they totally defined their sound, and what a blast it was to see them live. I saw them many times and never once was it less than full-on. At the end of 1992, I went to Detroit, I believe it was, to see them play a New Year's Eve show. Adam had flown in from Tibet to make it to the stage. He was exhausted and exhilarated and it was obvious that the journey had meant so much to him. It was another great Beastie Boys show, of course. I always found Adam to be an extremely articulate and sincere person, smart too, which you can hear on all those records. He was a very deep well. I am on tour at the moment and having gotten the news several hours ago, I have been saddened all day, as are people all over the world. I am sure his other two bandmates are finding these moments to be very difficult. I wish them the best.
Tabitha Soren
The Beastie Boys were shooting the "Fight for Your Right" video not far from where I went to school, and Rick Rubin and I were meeting for dinner, so he said, "Why not meet there?" I didn't think much of it. It was a very low-rent music video shoot that looked like a film school project, not, "Whoa! It's the next big thing!" So at some point while I was waiting for Rick, they asked me to be one of the extra people in a crowd shot. They didn't have a lot of money for extras, and they said, "All you have to do is raise your fist and say, 'Fight for your right.' Okay?" "Okay, and then we can go to dinner?" And I was very proud that I didn't get any of the sticky stuff, the whipped cream, in my heavy-metal hair. Everyone else got covered, but I was the only one not stoned and sluggish, so I was good at diving away from it.
I'd only been in New York for four or five months, and I was a wide-eyed teenager from Virginia, so I didn't really know them, but I knew what I liked later. I saw the Beastie Boys socially for a bit, because we moved in some of the same social circles and would end up at a lot of the same parties. The thing about the Beastie Boys was that they started out as party animals — just young kids having fun, and being outlandish — and they turned into something else as human beings. They grew as musicians, and as people. They still managed to sell records and have people be entertained, even though they weren't blowing up penises or putting women in cages anymore. Most people aren't able to make that transition. Yauch was the one who connected them with the Dalai Lama, and certainly for a lot of people in my generation, that was our first introduction to the plight of the Tibetan people. They decided to educate people who might not have cared, which was a great way to use their energy. Yauch was a sweet person. He was the down-to-earth one. He was the one who kept them from bouncing off the walls. He was the level-headed one. And he made them gel together, even in his vocal style and his stage presence. There was a sense of serenity about Yauch.
Billy Corgan
Although I did not know Adam well, I respected him as a spiritual warrior who fought strongly for peace in this world. And whether he ever knew it or not, he had a lot to do with my own spiritual awakening. He led with his heart, and in the conversations we had that's what stands out most; that he was real to his core.
Woody Harrelson
Adam was such a talented musician and artist. But more than that, at his heart, he was just a truly spiritual, sensitive, compassionate guy who I'm going to miss a great deal.  
 Z Trip
Though I only met MCA a couple times, it felt like I'd known him my whole life. I grew up with the Beastie Boys, and also grew with them. As they matured and got wiser I felt like I was doing the same thing, personally and musically. They were a huge influence on me. His death can be equated to the loss of a Paul or a John, as I've often felt they are my generation's Beatles.
Having been a Beastie Boys fan from the start, it felt extremely humbling for me to be asked to remix their entire catalogue. They were selective as to who they chose to work with, so to not only be asked, but to also be granted access to their master tapes was a tremendous honor. Just as I started production on the megamix All Access, I learned MCA was still battling cancer. I choose to close with the song, "I Don't Know," his solo track from Hello Nasty. It was my tribute to him.
Kurt Loder
Licensed to Ill came winging in like a hand grenade in 1986. It was really punk and really rap, too — which made sense, since rappers were happily dipping into the rock vaults at the time. The Beasties were clearly at home in both of these areas — I think it was a downtown thing; they saw no difference. Rap, especially in the case of a group like Run DMC, was black punk.
The band eventually decided — I have no idea how much Adam's Buddhism may have had to do with this — that their early party-monster material was deeply regrettable, especially in its punk-boy attitude toward women. They became more earnest, for better or worse. I remember interviewing them for MTV News at one of their first Free Tibet concerts. I personally found it laughable to imagine that nonviolent rock-concert "consciousness raising" could have any effect on the brutal Chinese oppression of the Tibetan people, but Adam had what I suppose might be called a long-view Buddhist conception of this; and no matter how much one might disagree, his commitment was sincere, and affecting.  
Adam was a man of many aspects. He was one of those Dune obsessives, and so am I. Here's a movie that even its director hates, but we don't care. I was up in the Beasties' office one day, or maybe in a studio, and we started talking about it. You know, the usual: The Baron — brilliant! The worms! The thing in the tank that folds space! There were always these rumors about alternate versions of the picture, about unseen footage. I thought I'd heard most of them, but then Adam said, yo, there's this Japanese Laserdisc version that was, like, five hours long. It was so great to be talking to someone else who even cared about this. I remain in awe.