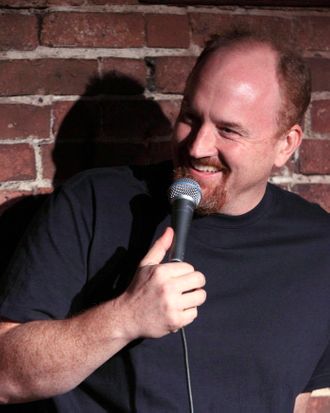 Though Louis C.K. was careful to say he might not repeat that wonderful, notably profitable "PayPal me $5 and download my new stand-up special" distribution technique identically — or at all — this weekend he released two newish comedic products under the same simple model. One is an hourlong audio performance, Word: Live at Carnegie Hall, recorded during a 2010 tour, disseminated as stand-up segments peppering the second season of FX's Louie, but otherwise never released. As a bonus to fans of cussing or not overextending the imagination to fill in bleeps, Word is fouler than even FX's almost-total lack of censorship allows.
A little more about Word, straight from Louis:
I've had a lot of requests from people to release that show as a speical or as a CD.  I hadn't done so because a lot of the material that I did on the WORD tour, was in the second season of my show "LOUIE" on FX.  But I decided since it's never been released as an entire show, and some of the material was not on my show, I'm releasing this now.  I'm giving you this long and boring explaination because, as most of you know, I release about an hour or more of new standup material every year and folks can count on seeing a new show every year.  This is old material, so I don't want to be a dick and pretend it isn't.
The other newly-downloadable-but-not-altogether-new thing is an audio version of C.K.'s 2007 HBO special, Shameless, which never got the standard CD release those affairs generally receive. This, you'll recall, is the hour that birthed Louis's seminal "suck a bag of dicks" riff.
C.K. also announced he'll soon sell his first feature film, 1998's black-and-white Tomorrow Night, on his website. That movie, which played at Sundance and showcased more of C.K.'s absurdist side, featured J.B. Smoove, Chuck Sklar, bit parts from Steve Carell, Conan O'Brien, Todd Barry, Amy Poehler, and, as the trailer denotes, the C.K.-requisite quantity of masturbation humor.