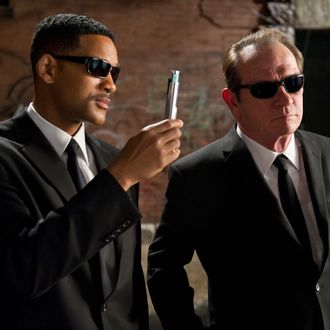 Will Smith (left) and Tommy Lee Jones star in Columbia Pictures' MEN IN BLACK 3.
Photo: Wilson Webb/Columbia Pictures
Sony had hoped for an $80 million opening holiday weekend for its Will Smith summer blockbuster Men in Black 3, but it looks like the film will underperform by at least $10 million. This is particularly worrisome considering MiB 3's nearly $300 million budget — a quarter of which was thanks to a six-week shutdown so screenwriter Etan Cohen could rework the time-travel plot device. Overseas, at least, the movie is faring a little stronger but in several markets still trails special-effects-overloaded Battleship, which in turn is in danger of being eclipsed at the domestic box office by Sasha Baron Cohen's comparatively low-budget The Dictator. Overall, Hollywood is facing 32 percent less revenue this four-day Memorial Day weekend than last, a troubling slump right at the start of the all-important summer season. The only vaguely promising sign: The Avengers officially hit the $500 million mark nine days faster than previous record-holder Avatar.