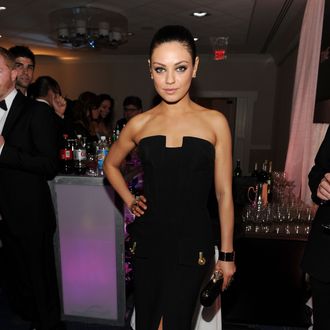 By now, we all know that celebrity heroes are everywhere, walking among us, ready to offer calming words or call the paramedics at a moment's notice. (Vulture likes to imagine Ryan Gosling, in a Nick Fury eye patch, sending out the call from his tastefully upholstered Williamsburg conference room.) It was only last night that Dustin Hoffman's random act of Hyde Park bravery came to our attention, but he is not the only famous person who saved a life this week, it turns out. Mila Kunis just earned her Superhero Stripes! TMZ has the story:
A 50-year-old man – who works in Mila's house – collapsed Saturday in her L.A. home. He suffered a violent seizure … choking, coughing up blood and vomiting. He had bitten through his tongue. A person on scene tells us … Mila came running, had her friend call 911, then rushed to the man's side.
Then Kunis actually got hands-on, Dempsey-style:
We're told the 28-year-old actress grabbed the man's head … turned it to the side so he wouldn't choke … while another person stuffed a wallet in his mouth so he wouldn't swallow his tongue. Law enforcement sources tell us … paramedics arrived on scene, rushed the man to the hospital, and he's since made a full recovery. We're told Mila volunteered to ride in the ambulance, but it wasn't necessary.
Good job, Mila Kunis! And congratulations on your induction to the Celebrity Avengers. (She's the Black Widow, of course, because of the Russian fluency. Dempsey is Iron Man, on the merits of that "I'm a doctor" comment, and Dustin Hoffman is … Captain America? Because he was being a good ambassador? Discuss.)