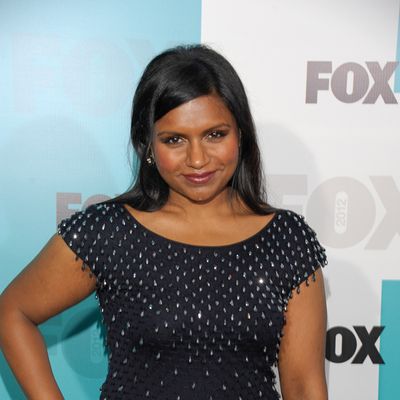 Mindy Kaling attends attends the Fox 2012 Programming Presentation Post-Show Party at Wollman Rink - Central Park on May 14, 2012 in New York City.
Photo: Dave Kotinsky/Getty Images
Vulture asked Mindy Kaling, whose show The Mindy Project made Fox's fall lineup, to keep a diary of her Upfronts experience. Herewith, all the kooky things that went through her mind, starting from before she got the good news, and ending with her in bed, indulging in some light showrunner fantasies.
SATURDAY, MAY 6

7:30 a.m.
Waking up in my childhood bedroom in Boston. I left L.A. to hang out with family while I wait to hear about the show. 

9:15 a.m.
Going through my bedroom and find some great relics from junior high, like a Denis Leary No Cure for Cancer tape, but nothing to play it on.

TUESDAY, MAY 8

11:12 a.m.
Rainn Wilson texts me: "I have news about your pilot!" I text back immediately, "What?!" But it was just a mean joke to get my attention. I hate that guy.

4:15 p.m.
Saw a matinee of Avengers. Perfect distraction. Now don't care if I have a show on TV or even the outcome of the 2012 election. Just want to watch Chris Evans–as–Captain America punch a punching bag, frustrated by what America has become in the 60 years he was frozen.

9 p.m.
Still thinking about Chris Evans.

WEDNESDAY, MAY 9 

11 a.m.
Getting antsy and nervous. Get momentarily distracted by looking at Met Ball Gala gowns online. Way to go, Beyoncé!

11:15 a.m.
I wonder if Rupert Murdoch weighs in on these things.

11:16 a.m.
Does Wendi Deng weigh in on these things?! In my mind, Wendi and I would get along very well. She's so interesting. Marc Cherry should option her Wikipedia page.

7:15 p.m.
At Logan Aiport, and as my flight is boarding, [Fox's] Kevin Reilly calls. It is good news. I immediately burst into tears. The people at the terminal counter think my boyfriend has just broken up with me over the phone, but I don't care. I love Kevin so much.

7:20 p.m.
Call my Dad. I start crying again. The airline people at the gate now think I am going through something super awful. The plane really needs me to board now.

9:35 p.m.
Watching We Bought a Zoo on the plane. This is the fourth time I have seen it on a plane, never with sound.

SUNDAY, MAY 13

5:35 a.m.
Arrive in New York. Try to buy a McMuffin from McDonald's, but it is not open yet.

7 a.m.
Get to hotel. Coincidentally, both my agent Matt Rice and best friend B.J. Novak have sent gift baskets full of sour candy and licorice to my hotel room from Dylan's Candy Shop. Heaven. Breakfast.

10:10 a.m.
There's a bidet in the bathroom. Weird.

8 p.m.
Having dinner with Will Forte, Craig Thomas, and Carter Bays. Carter, Craig, and I quote our favorite lines from MacGruber to Will, who smiles and says, "Thanks, guys" politely. I begin to drink.

10:35 p.m.
Arrive at UTA party.

10:48 p.m.
Brian Grazer! He's looking good. His hair looks like a confident, well-nourished porcupine. 

MONDAY, MAY 14

7:30 a.m.
I'm jogging slowly around the reservoir in Central Park, listening to the soundtrack to Kill Bill.

10 a.m.
I am wearing a black Givenchy cocktail dress to the Fox upfronts. Nobody cares about this but me. Maybe Zooey will care.

10:47 a.m.
Run into Max Greenfield on the floor of my hotel. He has just bought a belt from J.Crew because he left his at home. That is so Schmidt! Max smiles wanly.

11:20 p.m.
Stood next to Gordon Ramsay onstage at the Beacon Theater. Met Simon Cowell backstage. I, like the rest of America, love gruff Englishmen, so I'm dying.

3:30 p.m.
Throngs of girls waiting outside the hotel for someone from Glee to walk by. One small male voice says politely, "You dumped Paul Rudd in 40-Year-Old Virgin." He doesn't ask for a photo or autograph, just wanted to yell a fact. I shout back: "That is correct."

10:25 p.m.
Eating sushi with my fingers at the Fox party with my cast. I introduce Martha Plimpton to Chris Messina and feel really cool. 

11:10 p.m.
Chris walks me back to my hotel. Those throngs of fans are still there for the Glee kids. One matter-of-factly shouts, "You were on Damages" to Chris. Chris replies: "Yep." I feel like it was the same kid from before.

2 a.m.
I'm in bed, thinking of stories and making long lists of dream guest stars. What is Dennis Franz doing these days? He is so good. To quote Kelly Kapoor, "I'm too excited to sleep."