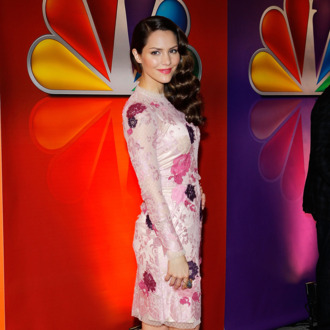 Photo: Jemal Countess/Getty Images
NBC's Upfront wrapped up a few minutes ago, and Vulture was on the scene to learn all we could gather from the sort of stuffy proceedings. The glorified PowerPoint presentation included lots and lots of talk about the Olympics and Sunday Night Football, genial cameos from several NBC stars, and a few important lessons:
1. NBC Sees Itself in Smash
The upfront ceremony opened with Megan Hilty and Katharine McPhee onstage belting out Smash's signature anthem "Let Me Be Your Star" and closed with "Stand," the show's gospel number about the importance of staying true to oneself, even in the face of criticism or failure. Resonant! Also, Marc Shaiman was onstage conducting a live orchestra. No cost spared!
2. NBC Considers Itself "Classy"
The word was used no fewer than seven times, refering to comedies, dramas, and reality shows. "Attention-grabbing" was the other big phrase of the morning, and in fairness, a monkey driving a tiny ambulance because he's "doing rounds" (see clip from new comedy Animal Kingdom) is pretty attention-grabbing. (It's less clear that that's classy.)
3. The Voice, The Voice, The Voice.
Not only were three of the show's judges on hand for a one-second cameo (Blake Shelton was off celebrating his anniversary, apparently), but the show's success was mentioned half a dozen times — as was NBC's plan to air it twice next season, both in the fall and in the spring. It's the launchpad for new programming and NBC's biggest hit right now. They even trotted out winner Jermaine Paul to sing "I Believe I Can Fly."
4. Swords Are Huge for Some Reason
Three different shows featured key moments of swordplay. The clip from Revolution, J.J. Abrams's upcoming drama about what happens when the world loses all of its electricity, included a pretty exciting sword-fighting scene; the segment from Go On, the Matthew Perry comedy about a sportscaster who joins a support group, includes what appears to be LARPing; and the new key art for The Office has a medieval fight-for-the-throne theme, including, you guessed it, a sword.
5. Mockingbird Lane Isn't Dead.
NBC chief Bob Greenblatt made a point of saying that the pilot for the Munsters reboot was going to shoot in the next month, and gave a shout-out to creator and executive producer Bryan Fuller in the crowd.
6. People Do Not Recognize Chicago Mayor Rahm Emanuel
He makes a cameo in the teaser clip for Chicago Fire, Dick Wolf's new show about Chicago firefighters and the people who love them. No one seemed to notice.
7. Advertisers Do, However, Recognize the Stars of The Book of Mormon
Josh Gadd's 1600 Penn, a comedy about a fictional First Family, and Andrew Rannell's The New Normal, Ryan Murphy's comedy about gay men who enlist a surrogate to help them have a baby, both garnered "aws" and whispers of "oh, him!" from the peanut gallery.
8. Get Ready for Scruffy Guys and the Marginally Abrasive Blonde Women Who Scold Them
Chicago Fire has scruffy guys in spades, and of course a blonde woman who doesn't take bullshit but will encourage you to jab a needle into a victim's heart because it is the only way to save the child. Do No Harm, the Jekyll-and-Hyde hospital thriller, stars Steven Pasquale, a bestubbled neurosurgeon. The New Normal's Justin Bartha sports five-o'clock shadow, which might shield him from the loony vibes emanating from Ellen Barkin's platinum-blonde mean, racist grandma. On Animal Practice, a comedy about a veterinarian, Tyler Labine (in a supporting role) has a Portland-worthy beard while dirty-blondee Amy Huberman, as the hospital's benefactor, is as uptight and snippy as they come. Multi-camera comedy Guys With Kids includes two stubbly dudes and a mean blonde ex-wife, and the whole premise of Next Caller, Dane Cook's midseason comedy about sparring radio hosts, is that there is an unshaven guy (Cook) and a tightly wound blonde woman (Collete Wolfe).