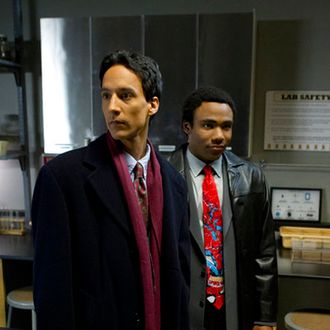 Dress for success, writers!
Photo: Justin Lubin/NBC
Dan Harmon is gone, but some familiar behind-the-scenes names on Community may be back next season. Vulture has heard from multiple sources that new Community showrunners David Guarascio and Moses Port have already scheduled meetings with several current Community scribes to talk about their futures with the series. This is not necessarily a big surprise, but it does indicate that some staffers are open to continuing with the series post-Harmon. Sony has staff writer deals in place with many of the show's scribes; it's unclear if the studio would force any writers to remain with the show.