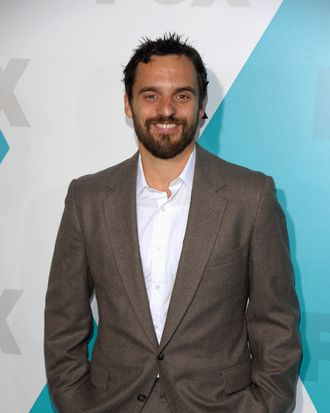 Jake Johnson.
Photo: Dave Kotinsky/Getty Images
For fans of television, the Upfronts are entertainment. We find out which of our favorite shows are returning, and which new ones we're going to obsess over. For stars of television, the Upfronts are work. Casts are trotted out in front of advertisers and asked to endlessly shake hands, take pictures, and talk to journalists. We caught up with the boys of New Girl at the Fox after-party, and learned that the dog and pony show can make some actors a little punchy, and that's when they start making their own fun. How it went down was: We chatted them up about their evening, and as the conversation progressed, they started a game that's rules are far simpler than True American: It's called "You have a good point." We're not sure how you win, but the rules seem to be pretty simple. See for yourself:
When you guys were posing with everyone for photos, did you have any go-to happy faces? You have to smile a lot …
Jake Johnson: Yeah, Max had made a good point about this and it's just having fun, being excited, and smiling ear-to-ear.
Max Greenfield: It's interesting. Jake and I talked about this earlier and he makes a great point, which is just, it's like, put on a smile — and you make such a good point is — put on a smile, but not like a …
Johnson: A fake one.
Greenfield: Not a fake one, but a genuine one. If you have fun with the whole situation, because it is kind of ridiculous that all these people are coming down and taking these pictures …
Johnson: But Lamorne [Morris] made a good point earlier, where it is a circus, but it's not a circus, because we're here. We're excited to be here because it means we get to do a season two. And all jokes aside, Max made a great point, which is the point of the whole thing. We're here to do more TV. Max made a great point about that.
Lamorne Morris: And Jake and Max, they both made a good point about that earlier, before I made the point.
I kind of love this.
Johnson: Well, we're encouraging each other because we make good points.
Greenfield: You know, the point of this, the point of this whole thing, the point of the Upfronts in general is to celebrate television and to celebrate the success of, you know, Fox …
Johnson: That's a really good point, Max.
Greenfield: And a lot of the points that [Fox execs] Kevin Reilly and Peter Rice made during the Upfronts ceremony …
Johnson: Hey, his opening, Kevin Reilly had a lot of great points and the thing they cut together had a lot of great points — it's like, Max made a great point, I don't mean to keep repeating it, but he made a great point. The point of all this is to get the shows out there to the people who care about it and that's the point, so good point.
Greenfield: Thank you, thank you.