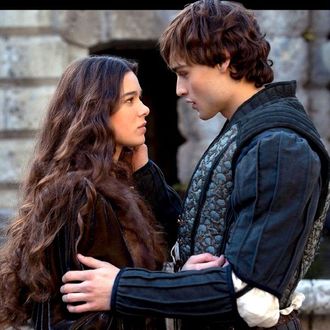 Hailee Steinfeld and Douglas Booth.
It's been sixteen years since director Baz Luhrmann put a gleefully anachronistic spin on Williams Shakespeare's enduring classic Romeo and Juliet, and twenty-eight years before that, Franco Zeffirelli delivered his faithful big-screen version, starring Leonard Whiting and Olivia Hussey. Is it time, then, for a new take? At Cannes, producers made their pitch for the just-wrapped, Carlo Carlei-directed Romeo and Juliet, which was scripted by Downton Abbey's Julian Fellowes and stars True Grit Oscar nominee Hailee Steinfeld and Brit actor Douglas Booth. "People will want to try to compare this, and I think it has the romance of the Zeffirelli and the energy of the Baz Luhrmann," Booth told us. 
The new Romeo, due out sometime next year, also has a supporting cast that includes Paul Giamatti, Lesley Manville, and Damian Lewis, as well as a performance by Ed Westwick as the fiery Tybalt. Westwick was on the scene at the beachside Cannes party, and we asked him how Fellowes managed to put his own stamp on a sacred text. "Basically, we broke down some of the verse, and he added his own verse, so it's a nice combination of both," Westwick said. "It's very unique. It's not doing the same thing [as the other films], although people will have to make up their own minds about that." (Showing off his Tybalt temper, Westwick then tut-tutted to the bartender, whose pour was more foam than beer, "Can you fill it to the top? I want it to the top, like in the advert.")
"I'm dyslexic and I read very slowly," Booth confessed to us. "When I read Romeo and Juliet in the past – obviously it was longer, because our screenplay cuts it down – but it would take me a while and it was fairly hard to get through. Some of these speeches … it's long, you know. When I read Julian's, the way he edited it is so brilliant. I went straight through it so quickly."
The project raised Stateside eyebrows last year when it was reported that teenage Steinfeld would be taking part in some sensual scenes, but the hirsute Booth said there's nothing to worry about. "I'm 19, despite the beard, and Hailee's 15," he said. "In the original play, Juliet was 13 and Romeo was 17, so it's the same age difference. Hailee's extremely mature, extremely clever and smart, and we all know how talented an actress she is. So the chemistry was just there, really. I think that's why they put us together." Alas, the two weren't together at the party, since Steinfeld was busy in Louisiana shooting a big-screen adaptation of Ender's Game. Isn't that just like Romeo and Juliet: forever kept apart by scheduling issues.