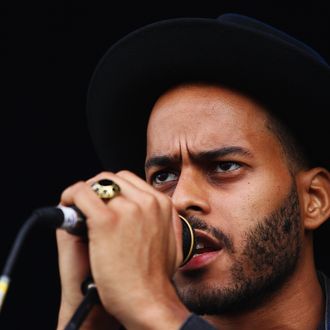 George Lewis Jr of Twin Shadow performs on stage during the Laneway Music Festival at Silo Park on January 30, 2012 in Auckland, New Zealand.
Photo: Hannah Johnston/Getty Images
Today in Brooklyn-based eighties throwback news: George Lewis Jr. just announced a second Twin Shadow album, Confess, which will be out July 10 of this very year. As a bonus, the lead single, "Five Seconds," is available for download here, and it's probably the most reliable time machine you will find for free on the Internet today. Get at it.