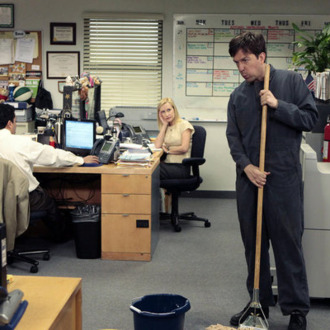 THE OFFICE – "Free Family Portrait Studio" Episode 824 – Pictured: (l-r) Brian Baumgartner as Kevin Malone, Oscar Nunez as Oscar Martinez, Angela Kinsey as Angela Martin, Ed Helms as Andy Bernard.
Photo: Chris Haston/NBC
The Office, which is officially in "a transition year," is bringing on some additional bodies in the form of Dan Sterling (The Sarah Silverman Program, Girls) and Brent Forrester (King of the Hill), who will serve as executive producers for the series' ninth season. (Forrester has been a consulting producer on the show since 2006.) Meanwhile, there's still no word on who will replace James Spader.