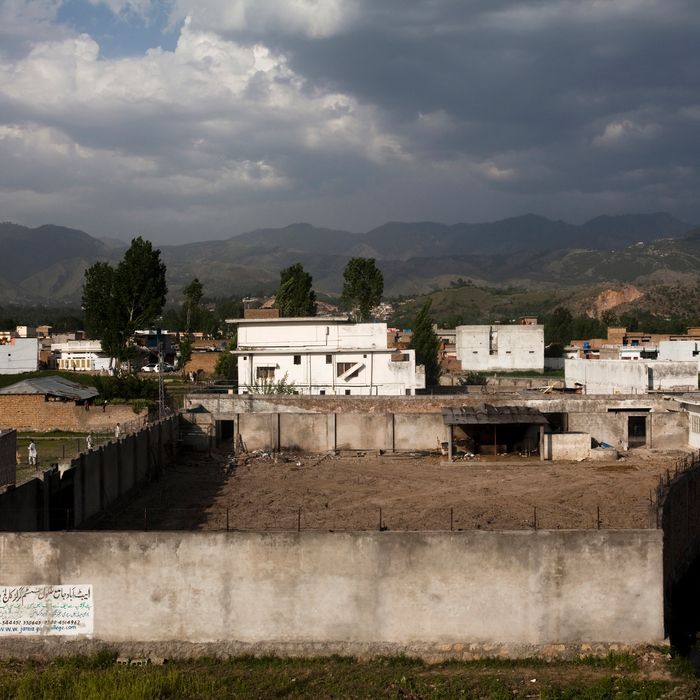 The compound where Osama Bin Laden was killed in May 2011. (Warrick Page/Getty Images)
Photo: Warrick Page/2011 Warrick Page
Zero Dark Thirty, the Mark Boal–written and Kathryn Bigelow–directed film about the Navy SEAL raid that killed Osama bin Laden, may no longer be slated for a pre-election release, but new details revealed by Politico show the Obama White House hard at work courting the filmmakers. The red flag: a meeting last July 15, in which an undersecretary of defense offered to introduce Boal and Bigelow to one of the mission planners.
The only thing we ask is that you not reveal his name in any way as a consultant, because again, it's the same thing, he shouldn't be talking out of school, this at least, this gives him one step removed and he knows what he can and can' t say, but this way at least he can be as open as he can with you and it ought to meet your needs and give you lots of color.
"Incredible," Bigelow remarked. "That's dynamite," said Boal. "This is me happy."
Beyond that, the Zero Dark Thirty team also gained access to several high-ranking government officials and highly sensitive planning areas at CIA headquarters in Langley, including a mock-up of the compound in Abbottabad, Pakistan, where bin Laden was killed. The information was revealed in a transcript of the meeting between the undersecretary and the filmmakers, which was obtained via a Freedom of Information Act lawsuit filed by the conservative watchdog group Judicial Watch.
Several of the meetings with government officials were set up by the Democratic-leaning lobbying firm Glover Park Group, which is run by a former Al Gore aide. Naturally, this did not sit well with Republican Homeland Security Committee Chairman Peter King.
After reviewing these emails, I am even more concerned about the possible exposure of classified information to these filmmakers, who as far as I know, do not possess security clearances. The email messages indicate that the filmmakers were allowed an unprecedented visit to a classified facility so secret that its name is redacted in the released email.  If this facility is so secret that the name cannot even be seen by the public, then why in the world would the Obama Administration allow filmmakers to tour it?
Pundits had long speculated that the too-cozy White House relationship with The Hurt Locker's Bigelow and company was "to counter Obama's growing reputation as ineffectual" and "reflect the president's cool, gutsy decision against shaky odds," as the Times' Maureen Dowd put it back in August.
A lot of trouble for nothing it turns out — not only is the movie now slated for December 17, well after Election Day, but Bigelow and Boal never did meet with the mysterious Navy SEAL planner.