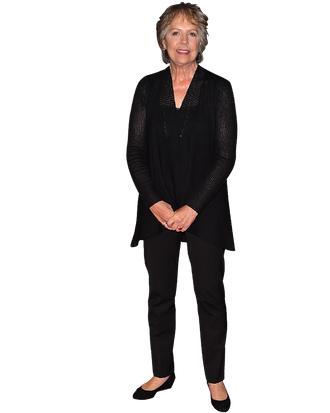 Penelope Wilton.
Photo: Ferdaus Shamim/WireImage/Getty Images
A handful of British retirees move to India in The Best Exotic Marigold Hotel — some to find a new lease on life, some to find a new love, and some to find cheaper medical care. One couple — played by Bill Nighy and Penelope Wilton, otherwise known as Downton Abbey's Cousin Isobel — find themselves in a desperate financial state requiring their relocation since they invested in their adult daughter's start-up, which hasn't quite started. While Nighy's character Douglas manages to handle the problems in stride, Wilton's character Jean becomes a green rage monster, getting sick from the food, freaking out at everyone, and refusing to leave the confines of the hotel to explore their new home. Wilton, who is much more genial than Jean, chatted with Vulture about motorcycles, zombies, and Downton Abbey spoofs.
Your director John Madden just determined that your character is the Hulk of this cast.
[Chuckles.] Right. Well, I'm delighted. Is the Hulk a good thing to be? I don't think I've ever seen the Hulk. He changes, yes? Then definitely, Jean is the Hulk. I think she's also in a relationship that's been a great disappointment, finally, and that's made her very unhappy. And she's also frightened for the future.
I have a theory about why the marriage didn't work — you're both zombies. Or at least you were the last time you were married to Bill Nighy onscreen, in Shaun of the Dead.
[Laughs.] That is true. We were. We've been reincarnated after being zombies! But that relationship was a very happy one, until we were turned into zombies. Before that, we were getting on extremely well, but poor thing, he was bitten, and then I was. I don't think zombies have a chance at long-term commitment, do you? And what kind of life is that anyway?
I brought up zombies as a joke, but really, since they're kind of going through the motions in their dead marriage, it's an apt metaphor.
In a way, that's true. I think they're going through the motions, and they don't know how to end it. And if they hadn't gone to India, they wouldn't have ended it, because they wouldn't have reached this climax of unhappiness and opposites. I mean, she's disappointed and resentful that life hasn't turned out the way she thought it was going to, and when she went to India, she thought it was going to be a way of life that she was going to enjoy, quite forgetting that when you go away, you don't leave yourself at home. You take all your problems with you. And then you're stuck somewhere, and your reference points are completely gone, and you're with a whole new set of rules you don't understand.  
Did you feel as out of sorts as she did? Did you ever get sick from the food?
Yes, but not as badly as John [Madden]. But he went out to eat more than we did. We were a bit wary, because you can't live the life of Riley if you're filming. You have to be aware that if you do go out and try the things that would be normal if you were just on holiday, you might have an off day, and you can't afford to do that— it's too expensive. So we were inclined to eat rather sensibly and stay in the hotel in the evenings.   
So you were forced to live the life your character did. Did you ever break out and do anything a little more adventurous — tool around India on a motorcycle?
I did! Luckily, I didn't tell the producers that. But I had a lovely time on the motorbike. I had a very nice young man who looked after me called Asif [Khan], because it was difficult in certain places if you were a woman by yourself to go out. You were a bit set upon — not in a horrible way, but they wanted things, or they wanted to sell you something — and it was very difficult to continue down a road if you were being continually asked things. And the easiest way to get around was on the back of his bike. If we came to a roundabout, I would think, He's never getting across this. But they know their timing. If you or I were driving there, we'd have an accident immediately! Mostly because we don't know the rules, and they do, and it has nothing to do with stopping at a red light. So it was fascinating! If I had an accident, they would have killed me, so I never said anything. [Laughs.]
Did you enjoy returning to Downton Abbey after this? And how is your new castmate Shirley MacLaine?
I came back and we did the second season of Downton after this. And now we're into the third season. Shirley was wonderful. She's so marvelous. She's in the first two episodes, and we loved her. And she fell in love with Carson — Jim Carter, who plays Carson the butler. She thought he was heaven. How could you not? [Laughs.] It was such a thrill to work with her. We got her to do "If They Could See Me Now" for us. Such good fun.
Have you seen any of the Downton Abbey spoofs or tributes, such as Downton Sixbey, or Downton Arbys?
No! People do these?
I can show you one on my phone here. 
Please do. Oh, I see. [Laughs.] Oh, that's Bates behind Jimmy Fallon [on Downton Sixbey]? Yes, yes. Oh, how wonderful!
And so the heir on Downton Sixbey? That turns out to be ?uestlove.
Oh, you mean my son, Matthew! [Laughs.] Oh, right! It's brilliant, actually. You know, there was one spoof by some British comedians that I saw a bit of before, and it was jolly good. They're spoofs that are celebratory of the piece. I hadn't seen any of those other ones yet, but I'm not a whiz with the old computer. If I spoke to somebody younger, they would probably know much more about it than I do. But they speak in a language sometimes that I don't understand! [Laughs.] I hear them chatting away and showing each other things, so I must ask them to show me more of these. I have an iPad, and I could probably find it on YouTube, right? Thank you so much! Lovely!