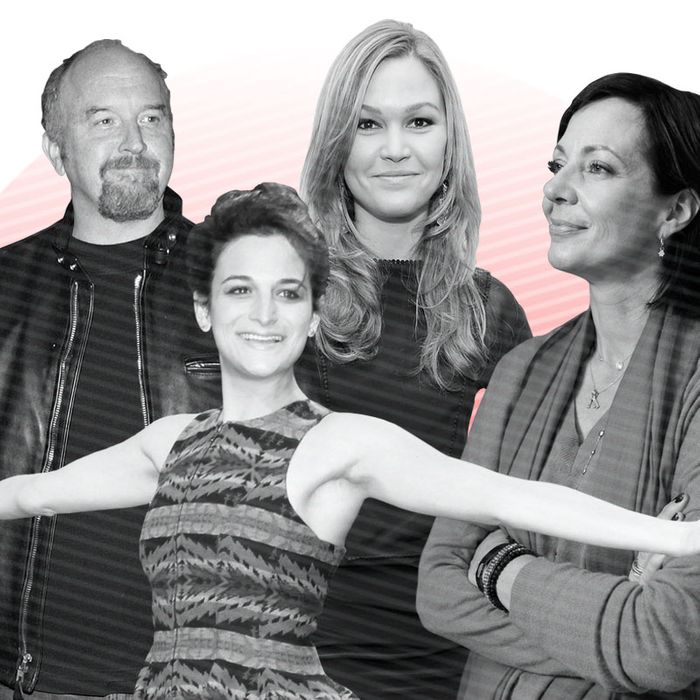 Photo: Larry Busacca, Mindy Best, Jason Kempin, and Jim Spellman/Getty
Now that the networks have announced their fall (and midseason) schedules for next season, we can gaze upon the annual pilot graveyard and despair. The pilot process is a fraught one, and this year, several high-profile projects didn't make the cut. It's not all bad news, though: That frees up some of our favorite performers and writers for other gigs — at least, we hope so. Herewith, a list of the shows that are floating off to the TV scrap heap in the sky.
County, NBC
Jason Ritter, Michael Imperioli, Michael B. Jordan, and Norbert Leo starred in the Jason Katims ER-like hospital drama.
Big loss? Yes and no: There's not really a big need for a hospital drama, and while we love the cast and creative team, wouldn't you rather see Katims (FNL, Parenthood) keep his focus on less-predictable formats?
Ripple effect: Ritter can stay on Parenthood next season! On the downside, Michael Imperioli's weird losing streak (Life on Mars, Detroit 1-8-7) continues.
Downwardly Mobile, NBC
Roseanne Barr and John Goodman reunited on multi-camera comedy set in a trailer park.
Big loss? No one wants the next Roseanne more than we do, but the version we read was not hugely promising.
Ripple effect: Goodman can appear in ghost form on Community next season, and Barr can keep up with her political blogging.
Rebounding, Fox
Will Forte starred as a guy coping with his fiancée's death with the help of his pickup basketball pals. Modern Family's Steven Levitan was one of the executive producers.
Big loss? Yes. The script we read was pretty broad but very promising, although between this and NBC's Go On, we'd have been maxed out on sports-fan-dude-in-grieving comedies.
Ripple effect: Will Forte's available! If he doesn't land on The Mindy Project or New Girl in some capacity, we're going to be sad. The show also featured Matt L. Jones, best known as Badger on Breaking Bad; maybe he'll pop back up there.
Super Fun Night, CBS
Bridesmaids scene-stealer Rebel Wilson created this sitcom about three girlfriends, including Jenny Slate, who decide to have more exciting Friday nights.
Big loss? No. CBS is not a particularly hospitable environment for good comedy, and the network already has Mike & Molly, a show starring Bridesmaids' Melissa McCarthy — and it's terrible and a total waste of her talent. Wilson et al. can do better.
Ripple effect: Wilson's big break won't come for a little while longer, but at least Slate now has room in her schedule to make more Marcel the Shell videos, please oh please.
Midnight Sun, NBC
Julia Stiles and Titus Welliver were among the cast of the dark drama about an FBI investigation into the disappearance of a remote Alaskan cult.
Big loss? No. There are lots of spooky dramas this fall (Zero Hour, Revolution, Last Resort) and plenty of cult shows at midseason (The Following, Cult).
Ripple effect: Does this mean Lumen could reappear on Dexter? Probably not, but maybe!
Friday Night Dinner, NBC
Allison Janney and Tony Shaloub starred as the parents of two adult sons who come home for Shabbat dinner every Friday. The Office's Greg Daniels was the executive producer.
Big loss? Yes. What's it going to take to get Allison Janney a damn comedy already?
Ripple effect: That Monk movie seems like more of a possibility.
Untitled Louis C.K./Spike Feresten Project, CBS
Ashley Tisdale starred in the comedy about twentysomethings trying to make their way in New York City.
Big loss? Unclear. Louis C.K. is the reigning comedy god — with good reason — but a CBS sitcom never sounded like all that good a fit.
Ripple effect: Louie remains preciously unscathed.
The Manzanis, ABC
Kirstie Alley starred as a wife and mother who moved to the suburbs with her boisterous Italian family, including mother-in-law Rhea Perlman.
Big loss? Nope!
Ripple effect: Alley's schedule is open enough to do the all-star season of Dancing With the Stars.
Living Loaded, Fox
A hard-partying blogger cleans up his act and goes to work for his dad's NPR affiliate. Said dad was played by Donald Sutherland, and It's Always Sunny in Philadelphia's Charlie Day served as an executive producer.
Big loss? Medium loss. Day's sensibility is always welcome, as are any and all NPR jokes (we tease the ones we love), but NBC has another radio-set show (Dane Cook's Next Caller).
Ripple effect: Sutherland can play evil masterminds on any number of thriller dramas this season. Someone from Revenge, call Donald Sutherland already.