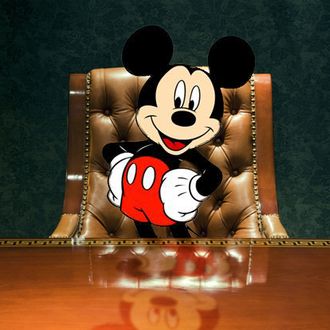 If I were suddenly to wake up in a remake of Heaven Can Wait and find myself in the body of Disney CEO Bob Iger, my first thought would be, Shit, I'm thirteen years older now! My second thought would be, "Wow, my wife's hot and I am really rich!" But my third thought would be, How am I going to fix the Walt Disney studio and who am I going to get to replace Rich Ross as chairman? Fortunately, since inside Iger's body I would still be me — a fucking know-it-all genius —I would have the answer: (1) disavow the company's relatively recent change in strategy of sticking to a more limited release slate of blockbusters and go back to producing more films with more contained budgets; and (2) pick a new studio chairman who comes from the feature-film business and has had recent success and experience as an executive at a major studio.
I don't really know what drove Disney's change a couple of years ago from being a studio that does a range of films to one that only produces fewer bigger budget events; it probably was inspired by a study from some consulting firm that only can claim victory if it comes up with a big dramatic idea and uses nebulous statistical analysis to back up that idea. But I think we've seen with Mars Needs Moms and John Carter that the fallout from a megaflop can be just as potent — and in some ways have more effect on shareholder value — than a hit. What was wrong with mid-range movies like The Santa Clause, While You Were Sleeping, The Mighty Ducks, Pretty Woman, The Princess Diaries, The Kid, The Rookie, Sweet Home Alabama, and 8 Below? I could understand deciding to stay away from movies that don't tonally work with Disney's brand or that are not in the wheelhouse of their marketing department, like The Insider and High Fidelity, but being able to apply Disney marketing to a brand-friendly movie like Snow Dogs certainly is profitable, whether or not you love that film. And nobody gets fired and the stock doesn't drop if a $30 million movie bombs. At the same time, a success like Father of the Bride can certainly be valuable and is prime for sequels. Yes, the event movie has to be the mainstay of Disney's release schedule, and they are locked into great franchises from Pixar and Marvel for years to come, but having a balance is certainly more rational and less risky.
Ross came to Disney from the Disney Channel, and I do think bringing in someone from television was a smart idea and it is too bad that it didn't work out; there are TV execs like Kevin Reilly at Fox, Nina Tassler at CBS, and John Landgraf at FX who have had success creating new narrative content and managing talent, and it would be great to see them bring their experience to the film business. But this recent failure has been too noisy and the investment community who guides the stock price will now want to see a more proven choice for Disney's top movie executive spot. Obviously, acquiring someone who has been successful at a similar job at another company, such as Jeff Robinov from Warner Bros., Amy Pascal from Sony, or Tom Rothman from 20thCentury Fox, would be best. But that would also be impossible, as they would have no reason to move and are probably under long-term contracts. It would likely work to get someone who is currently one tier down at a winning major studio, like presidents Adam Goodman at Paramount or Doug Belgrad at Sony, but I hear Adam recently re-signed to his studio and Doug is probably locked up as well. A big producer with past studio experience could also work, as it has at Paramount with Brad Grey, but there are few who fit the bill; Scott Rudin, for instance, is super talented but doesn't play well with others, and could not and would not want to be functional in a corporate environment. Much-talked-about Marvel executive Kevin Feige, though respected and talented, isn't proven in a wider range of genres, which runs up against my overall change in strategy. I would also avoid someone from the business side, as the new chairman still needs to be the one making creative decisions and attracting and managing the creative talent who make the movies. Finally, I'd want someone whom I think could instill more fiscal discipline in the film studio; something that Disney was known for during the early Katzenberg days and that seemed to be forgotten as the success of the Bruckheimer sequels came rolling through the system. Given all of that, here are the three best choices in order:
Stacey Snider. Universal desperately tried to keep her from leaving the co-chairmanship of that studio by offering her a huge deal, yet she decided to leave and partner with Steven Spielberg at DreamWorks … whose films are distributed by Disney. At Universal, she shepherded many successful pictures, including Meet the Parents, Fast and the Furious, and The Bourne Identity. She has a calm personality that would please the investment community and knows how to pick projects that can become hits and make them work. The massively successful and inexpensive DreamWorks/Snider project The Help is the kind of film that would become more important in my new/old strategy. Even recent DreamWorks misfires like I Am Number Four and Real Steel were probably either slightly profitable or able to just break even, because their budgets were relatively restrained, in comparison to other effects-heavy productions. And she is well liked by the talent. Yes, there is the problem that Reliance just refunded DreamWorks, but Iger can convince them and Spielberg that they aren't losing her, they're just ensuring that DreamWorks product is handled better at Disney from a marketing and distribution perspective than before. Still, it could be unlikely that she'd want to leave such a good position at DreamWorks in favor of one with greater headaches and probably less compensation.
Nina Jacobson. This would be beautifully ironic, as Nina was fired from her position as Disney's president of production in 2006, in favor of former marketing executive Oren Aviv, even though she had worked on such hits as Pirates of the Caribbean, National Treasure, and Enchanted. Since becoming a producer, she has made The Wimpy Kid series and The Hunger Games, which was delivered at a lower price point than would have been the case in the hands of other producers, showing that her achievement at Disney wasn't just a result of having the job. Also, she is not under a contract to anyone, which makes her a real possibility. If she were allowed to maintain her connection to (and stake in) The Hunger Games sequels, taking the job held before Ross by Dick Cook — the man who fired her when she was at the hospital after the delivery of her third child — would offer both monetary and ego compensation.
Lorenzo di Bonaventura. I can't say that he is as good a choice as the other two, mostly because he isn't really known for bringing down the negative costs of his films, but as a producer Lorenzo has been wildly successful, with hits like the Transformers franchise, Salt, and the awful but profitable G.I. Joe. As president of production at Warner Brothers, he worked on both The Matrix and Harry Potter. Lorenzo is in a deal at Paramount, but it is much more possible to get out of one of those contracts to become an executive than it would be to leave one studio executive position for another. 
So there you go, problem solved, studio saved. I really enjoyed this exercise. Maybe there is a sequel in my future where I inhabit the person of Rihanna, help her build her acting career after the release of Battleship, get her away from that awful Chris Brown, and help her steal John Legend away from Chrissy Teigen.