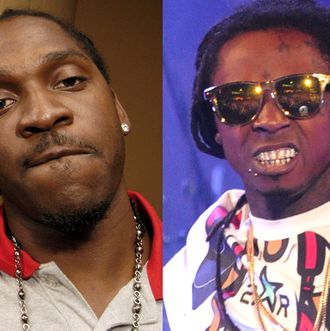 No, Pusha T and Lil Wayne did not spend the holiday at a Pool Party of Peace, hashing out their ancient beef on a swim noodle built for two. Instead, they spent the weekend doing pretty much what fighting rappers always do, which is: fighting. After last week's Twitter response to Pusha's "Exodus 23:1," Lil Wayne took to the studio to record … basically the same thing he said on Twitter ("Fuck Pusha T and anybody that love 'im," it starts off), plus some new thoughts about Chase Bank. Meanwhile, Pusha made a crackhouse-y video for his song, and Drake maybe called him out onstage. All of the evidence is below.
Here's "Goulish" (spelling not ours), Wayne's minute-and-a-half response:
And here's Pusha's "Exodus 23:1" video. Maybe NSFW, depending on your workplace's crack policy.