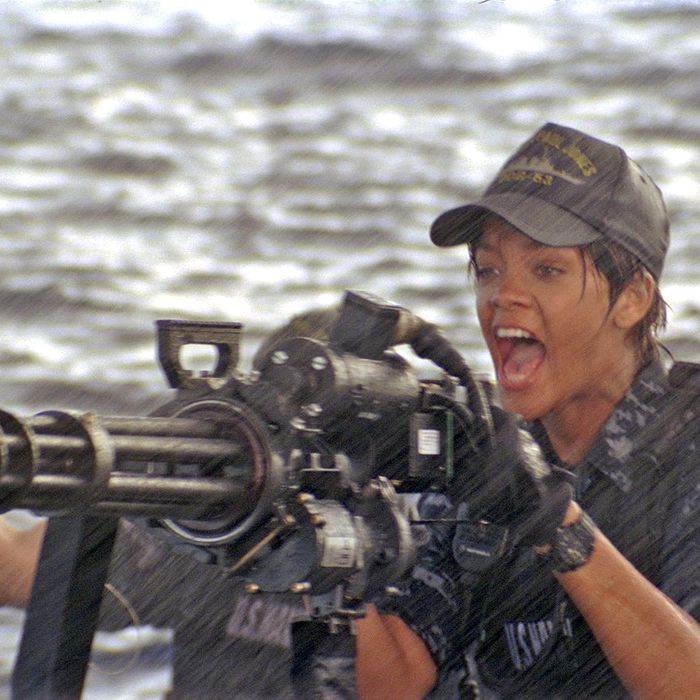 Photo: Universal Pictures
Rihanna's film debut is a memorable one. The Barbadian singer is wet for much of Battleship, her Navy uniform is uncommonly flattering, and the majority of her dialogue is composed of exclamations. It's a veritable master class in one-line utterances. Most of her lines fall into one of several categories: sassy ("Get up, princess!"), confused ("What the hell is that?"), or surprisingly competent  ("Contact two miles out"). But enough of this. Let Rihanna speak for herself.
"What's wrong with you, drama queen?
"Get up, princess! Come on!"
"Oh, this gon' be sweet. He hates the man."
"You go mess with him and see what happens!"
"Kentucky Fried Chicken!"
"You look like Colonel Sanders, actually."
"Yo, Saunders, ever been in a department run by some kind of Donald Trump/Mike Tyson mutant combo?"
"If you did, it was only in reference to the fact the you both project great physical intensity, sir."
"I got something, sir, on my camera."
"Is this some kind of exercise?"
"You ever seen anything like this?"
"Real bad idea, Lieutenant."
"Fire control's offline. I need three minutes."
"My dad said they'd come. Said it my whole life. He said one day we'd find them, or they'd find us. Know what else he said? He said, I hope I ain't around when that day comes."
"Come on, come on, come on."
"Sir, we're hot over here. We're good to go, let's light 'em up."
"Negative, sir, it's moving all over the place. I can't get a line on it."
"Sucker's really jumping around."
"Contact is seven minutes out and closing fast."
"Contact ETA 21 seconds."
"Sir, we'll be in weapons range in five minutes."
"Sir, that's the wrong direction!"
"Come on, take the picture, Beast."