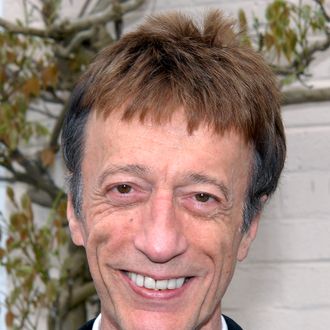 Photo: Stuart Wilson/Getty Images
Robin Gibb, singer, songwriter, and one-third of the legendary band the Bee Gees, died Sunday at 62 after a long battle with cancer, according to a statement on his official website.
Born in 1949 on the Isle of Man off the British coast, Gibb and brothers Maurice and Barry recorded the soundtrack to Saturday Night Fever, one of the signature pieces of the disco era. The best-selling 1977 album included the hits "Stayin Alive," "Night Fever," and "How Deep Is Your Love." An established pop act before that soundtrack, the trio sold an estimated 200 million albums over their long, glittery career. The Bee Gees were hailed for their melodies and three-part vocal harmonies. Robin's affective, quavering voice stood out on tracks such as "I Started a Joke."
The Gibb brothers' unique personalities and white suits were celebrated on Saturday Night Live in recent years with "The Barry Gibb Talk Show," starring Justin Timberlake as Robin and Jimmy Fallon as Barry. "I feel blessed I was born into a family that had Barry and Maurice in it," Gibb said. "On a creative level it's like winning the lottery — you can't choose that."
"Stayin Alive" in 1977. You can tell by the way he uses his walk …
"I Started a Joke" in 1968 with lyrics by Robin.