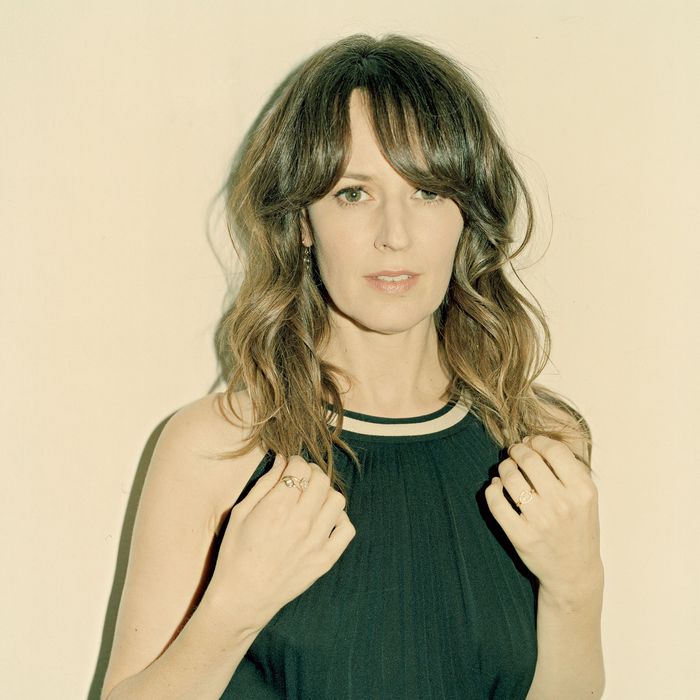 Photo: Photograph by Andreas Laszlo Konrath; Styling by Nicolas Bru for Margaret Maldonado; Makeup by Jennifer Pitt at Tracey Mattingly; Hair by Mara Roszak for Starworks Artists
Visiting a bookstore in downtown Manhattan and actually buying books is something of a novelty for Rosemarie DeWitt. At 37, she's ostensibly made it — she's starring in movies and ­living in Los Angeles. But not long ago, she was just another twentysomething New Yorker priced off the island. To DeWitt and her fellow outer-borough-dwelling actors in the late nineties, Manhattan bookstores weren't so much shops as second apartments.
"All I did was kill time between things, hang out all day and not buy anything," she says, flipping through a guide to yurts (she wants to build one in her backyard in Los Feliz) at Three Lives & Company Bookstore, on West 10th Street. "I lived in Brooklyn or Washington Heights or Astoria, and would always home-base here because you could never go home. You'd have an audition at ten in the morning and have to bartend at four. It was a good ten years being semi-homeless."
Her favorite place to squat was the now-closed Barnes & Noble on Astor Place, because it had a Starbucks and "you could lie down in the children's-book section and nobody would bother you." Also, the bathrooms were good for costume changes, even if the costume was a bartending uniform. Did she nap alongside any now-famous actors? "Probably," she says, laughing, "but we were all so un­recognizable then that nobody knew."
DeWitt is back in town to promote Your Sister's Sister, a low-budget, mostly improvised comedy from Humpday director Lynn Shelton that was a breakout hit at the Toronto Film Festival last fall. In it, Emily Blunt sends a grieving friend (Mark Duplass) to her family's remote island cabin where he unexpectedly encounters, and spends the night with, her older half-sister (DeWitt).
DeWitt owes her part in the movie to a series of coincidences. "I'm a huge admirer of hers," says Shelton, who knew DeWitt's work from her role in Mad Men, as Midge, Don Draper's bohemian mistress, and Rachel Getting Married, in which she played the title character, who's Anne Hathaway's sister. "There's just this sense of authenticity and naturalism she has," says Shelton. "She immediately embedded herself into my brain as an actor I wanted to work with."
Which was fortunate, because the weekend before Sister was to begin shooting, Rachel Weisz, who'd been prepping to play Blunt's sister for eight months, dropped out over a scheduling conflict. DeWitt's name came up as a possible replacement, and it just so happened that a year earlier she'd accosted Duplass in an airport to tell him how much she loved Humpday, his first collaboration with Shelton. "He was a little like, 'What's wrong with this chick?' and backing away slowly," says DeWitt. But he remembered her and told Shelton, " 'If Rose is available, she'll do it.' "
Since the other actors had been ­developing their characters for nearly a year, DeWitt quickly had to draw on personal experience. She has eight half-siblings from her father's previous life as a pilot in the Marines before he married her mother. "I don't know what it's like to fight with your sisters over clothes or crawl into bed with them," says DeWitt, who was raised as an only child. "But we still share our dad, so it can get very emotional." She also brought to the movie a funny true story about a girlfriend whose domineering boyfriend asked her to shave her crotch because of the pouf in her underpants, which she retold on-camera, as if it had happened to Blunt's character, prompting real blushing on Blunt's part. Duplass, in turn, embarrassed DeWitt with a long, rapturous speech about her butt that also made the movie.
Film acting still feels new to DeWitt—she'll appear this summer as Ben Stiller's wife in the sci-fi comedy The Watch, and soon alongside Matt Damon in the Gus Van Sant drama Promised Land—who only landed her first big-screen part at 31, in 2005's Cinderella Man. And that came by way of special circumstances: The Ron Howard movie was about her grand­father, three-time world heavyweight boxing champion Jim Braddock. Howard was kind enough to give her a courtesy audition, despite her short résumé. "I was worried they thought I was a hairdresser from New Jersey, because I didn't have any [nontheater] credits at the time," she says. "I'm sure I was the sentimental choice, but it was a really big deal for me to get to be in that movie."
It led to her starring role on Fox's short-lived action-romance Standoff, with Office Space cult hero Ron ­Livingston. The show "wasn't very good," says ­DeWitt. "I had to say fifteen times a week, 'You mean the hostage-taker will kill?!' " Still, she got a husband out of the experience; Livingston asked her out a month after the show was canceled. "A lot of people meet on horrible TV shows," she says. "That's terrible. Don't put that in. Fox probably thought it was good."
As we wander through the West ­Village, the Flushing-born, New Jersey–raised actress spots reminders of her previous life everywhere. To the north is Chelsea, where DeWitt first moved after graduating from Hofstra, and lived in what she thinks had formerly been a brothel. "There were all sorts of weird knocks on our door in the middle of the night," she says. We pass the pub Oliver's, on West 4th Street, where DeWitt bartended when it was called Boxer's. "I did brunches, so I can't really look at a Bloody Mary now after making vats of them every Saturday," she says.
Nostalgia has mostly brightened ­DeWitt's memories. On a recent trip, "I was at Chelsea Market and called one of my girlfriends, kind of crying, and I was like, 'We were young in this city!' " she says. "I'd just seen some 22-year-old with their too-heavy backpack. There's just such energy. You really feel like when you're here, you could do anything."
But then she was reminded of the time she and her then-boyfriend were heading back to an Astoria apartment after a ­fourteen-hour day, and they ran into a pair of junkies with whom they'd regularly ride the N train. "It was a man and a woman, and one would get high and nod off while the other stood guard," she says. "It was clear they were on drugs, and I said to my boyfriend, 'God, they look so tired.' And he goes, 'Maybe they're actors.' "

This story appeared in the June, 11, 2012 issue of New York Magazine.