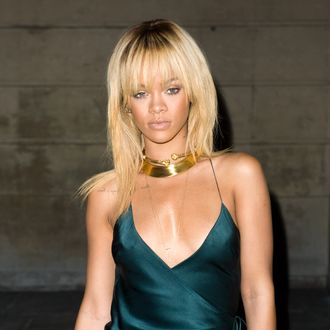 Photo: Samir Hussein/2012 Getty Images
You may recall that Chris Brown's most recent bratty freestyle had a few lines aimed in Rihanna's general direction and that Rihanna took offense to them. You may also be aware that noted Rihanna dumpee Drake fired a few shots on a 2Chainz track a couple of weeks back (the relevant lyrics, from "No Lie": "Oh that look like what's her name / Chances are it's what's her name / Chances are if she was acting up / Then I fucked her once and never fucked again." It goes on, unkindly.) Rihanna took issue with that verse, too, because generally, she can't resist an opportunity to tell someone off on Twitter. But Russell Simmons did not feel that these responses were enough, apparently, and so he took to the Internet to write his own Rihanna defense. It is titled "Get Off Rihanna's Dick!" It includes the following:
As far as I'm concerned, I don't see why everyone has their panties up in a bunch. It's just that she is out there allegedly fuckin' the rockstars of her dreams and you out there fuckin' groupies. You can't be mad that she was seen walking out of Ashton Kutcher's house late one night, cause you know if you were seen walking out of Adriana Lima's house late one night, you would be in the studio the next day rapping about it. I mean, you all got like 50 girls in your videos drooling over you and you dissing Rihanna?
The letter is paired with five super-sexy photos of Rihanna, just to cover all the audience bases, but still. He has a point!