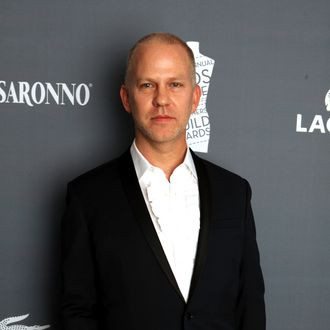 Photo: Christopher Polk/Getty Images
Glee and American Horror Story producer Ryan Murphy is thisclose to having his third series green-lit: Vulture has learned that NBC chief Bob Greenblatt has given the go-ahead for Murphy and co-creator Ali Adler to begin hiring writers for the new Peacock pilot The New Normal. While this is not the same as a series order, it's pretty damn close, and makes a pickup of the show — about a gay couple (Justin Bartha and Andrew Rannells) who start a family with a surrogate — almost a formality.
The reason for the early staffing notice: Greenblatt is strongly considering having the 20th Century Fox TV–produced New Normal launch this August, following NBC's broadcast of the Summer Olympics. Other shows that could get a head start on the fall include the already green-lit Matthew Perry comedy Go On and the returning thriller Grimm. Vulture is also hearing strong buzz on the Josh Gad comedy 1600 Penn (maybe it'll go early, too?) and the half-hour Justin Kirk pilot Animal Kingdom. UPDATE: We've also just confirmed that NBC has also given the go-ahead for producers to start staffing up the Anne Heche comedy pilot Save Me. It's Pick-Up-a-Palooza at the Peacock today!
NBC declined to comment.