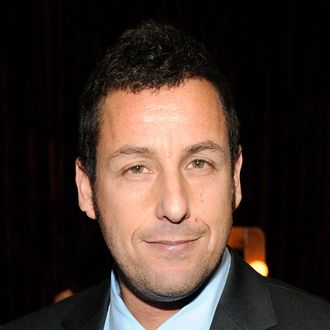 Photo: Frazer Harrison/Getty Images
We hear that Adam Sandler is in talks to star opposite Will Ferrell in Three Mississippi, a comedy from 30 Rock executive producer Robert Carlock and Friends executive producer Scott Silveri.
But Sandler isn't merely being added to the film; he will be replacing Mark Wahlberg in the tale of two rival families who have an annual tackle football game at Thanksgiving — with one family (Wahlberg's) the perennial loser.
Originally code-named "Turkey Bowl," the Warner Bros. project came about after Ferrell's producing partners, Owen Burke and Adam McKay, wanted to find a way to reteam Alec Baldwin and Mark Wahlberg and re-create their clever banter from The Departed. This got Ferrell aboard. Soon after, when Baldwin joined and agreed to play Wahlberg's father, the project quickly gathered steam.
But then three (mostly) unexpected things happened this spring: First, late last February, Universal started to suspect that Battleship would bomb badly and decided it only wanted to to distribute (but not finance) director Peter Berg's next film, Lone Survivor, an ultraviolent take on a doomed SEAL team mission in which Wahlberg — spoiler alert! — would play, uh, the lone survivor. With Universal closing its checkbook, the only way to secure indie financing for Survivor was through a big star like Wahlberg, which the project finally did with Emmet/Furla Films, which agreed to help out only if Wahlberg made it his next film.
Second, late last March, Paramount finally and somewhat unexpectedly said yes to an Anchorman sequel, planning to shoot the Ron Burgundy comedy early next year. 
This put McKay in the somewhat awkward position of having to recuse himself from directing a movie he'd essentially thought up and had intended to direct Ferrell in, but no matter: In his place, Warner Bros. brought in Sean Anders, who had just directed That's My Boy, which stars Sandler playing, in a stunning departure for him, a man-child ignoramus with a big heart.
But the second problem led to a third: Namely, that between Wahlberg's  commitment to shooting Lone Survivor in the months ahead, and Ferrell's own Anchorman sequel shooting this coming January, Ferrell didn't want to wait around for Wahlberg the better part of a year for when he had Warner Bros. ready to shoot Three Mississippi this fall.
As such, the arrival of Anders on Three Mississippi last month couldn't be more perfect for Warner Bros., for what is Adam Sandler's world if not one big Hawaiian-shirted cluster-hump of directors who work with the star time and again (Dennis Dugan, eight Sandler movies; Frank Coraci, four; Peter Segal, three)? As such, we can probably expect to see a lot more of Anders and Sandler beyond Three Mississippi … but first, there's some gonad-grinding gridiron guffaws to be filmed!