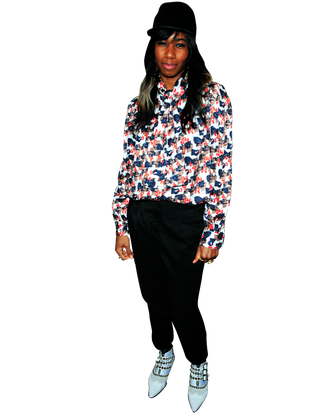 Santigold.
Photo: CHANCE YEH/Patrick McMullan
When Santigold (née Santi White) dropped her eponymous debut, critics hailed her sound as an exciting and perhaps more refined rival to M.I.A.'s hodgepodge, globetrotting aesthetic. (Her singles, the reggae-propelled "Creator" and melodic, staccato "L.E.S. Artistes," in kind, won her a solid following.) But that was four years ago. To celebrate the release of her long-awaited follow-up, Master of My Make-Believe, Vulture sat down with the affable Santigold to ask her what the heck took so long. Intriguingly, her answer involves talk of dancing, weed, and how her favorite sound now is that of silence. She also clears up those rumors about hating producer David Guetta.
The choreography in your live shows is really fun. Who does it?
What we do is, we [Santi and her dancers] have, like, dance research days. It's hard 'cause there's a lot of choreography. So after a while you gotta find some new moves. We'll sometimes just go online and start looking. We go all over the place, from Singing in the Rain to tribes in Africa to teenagers doing the Jerk or whatever is big down South right now.
So what's the cool dance right now?
You think I'd know! Oh! Okay, the new one we were just talking about is the Tony. [Breaks out into a jig.]
Why is that called "The Tony"?
I don't know! I don't even know if it's really a new dance. So the last song we need to [choreograph] is "Look at These Hoes." And we're like, [giggling] "What could we possibly do?"
You seem like a sweet person. What's with the attitude in your songs?
I'm a really nice person. But if you cross the line … That fortitude comes out in my music. I don't like it when people are unfair. I don't take shit off of anybody. I've never really been in a fight my whole life — except for one. It's so stupid. Me and my sister went to see Devo one time. We're standing there, and all of a sudden out of the corner of my eye this girl just pushed my sister. I just went BOOM! [Does a shoving motion.] Also, I'm a perfectionist and work really hard. When it comes to the people who work with me, I'm really demanding, but I think I'm completely fair and nice.
Were your high standards the reason it took four years to release Master of My Make-Believe?
The main reason is that I toured for two years for the last record, which I realize now is uncommon. Most people do about a year, maybe a year and a half. It was grueling. The second year was really hard — I kept losing my voice. But I think I earned a pretty real fan base, which was the goal.
Can you clarify this beef the NME reported that you have against super-producer David Guetta?
That's completely untrue. They said that I said, "I hate David Guetta." I don't even know what song David Guetta's ever done. At a point, my label [Atlantic Records] was like, "Why don't you go in with some big pop writers?" It wasn't particularly those people. And I tried. That's what you do when you sign somebody: You put them in with the hit-makers. So I don't even think it was personal.
What's weird about this is that you've actually written pop tracks for folks like Ashlee Simpson.
That was several years back. But now it's, like, formula. The lane is so narrow for what's considered mainstream or radio music. That's why the Adele thing is so big. I mean ["Rolling in the Deep"] is a very clear pop song. But it's also like no-frills and is different from anything. It's just an honest, great song. But if you look at radio, how many songs are produced and written by the exact same producers?
Beyoncé borrowed your producer Switch for her album. And she was at your NYC show the other day. Are you friends?
I don't really hang out with her that much. She's like the warmest, real down-to-earth Southern girl. She's from Houston, and my dancers are from Houston. So she's always like, "I wanna be one of your backup dancers. Maybe I could put on a mask."
What does your album title mean?
Master of My Make-Believe is the theme — being the ruler of your reality. And daring to see yourself and your world differently and making that a reality.
What do you do when you have writer's block?
I've started doing transcendental meditation, and it just changed everything. Because it makes you calm and confident, which are the two main things that are missing when you feel anxiety. Beyond that, it helps you connect with the source of everything — it even makes your dreams more vivid. Also, I went to Jamaica. In New York, in the world that I live in, it's noise, noise, noise. When you go out to calm places, you can sort through all that noise in your head, and that's where the lyrics are.
Why you are surrounded by so many stoners? Producer David Sitek, Diplo, the country of Jamaica …
Dave Sitek also meditates! He's the one who sent me to the [meditation] lady — he was like, "You need to see this woman." He's so wise and was a real friend and supporter throughout this process. And he smokes a lot of weed! I don't smoke weed at all — I hate it. It makes me so hungry and tired. And I don't drink really, either. I'm like the person that most people excuse themselves from, "Excuse me while I do some MDMA or something." Nobody does anything in front of me.
Speaking of meditation, I read that you went to a Quaker high school. And you had this quiet time during which you could break the silence by speaking out on anything …
It's called meeting for worship.
What did the teenage Santigold express during these meetings for worship?
I liked it. You just sit in silence. And if someone felt moved to say something, you'd just stand up and say something — and then everybody reflects on it. I never said anything. I hate standing up and … I have no problem being onstage at all. But I don't make speeches at weddings, and I hate writing messages on cards. I freeze. I like writing, but only when I get to sit and think and fix it.