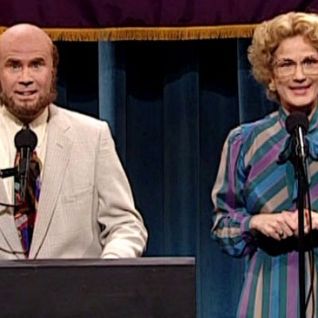 Will Ferrell brings back the Culps.
Considering that Will Ferrell is one of the biggest comedy stars working today — not just in film, but as a producer of the recently wrapped TV series Eastbound And Down and a co-founder of FunnyOrDie.com, and that Saturday Night Live was his home for the better part of a decade, and that the season's two best episodes so far both featured former SNL cast members (Jimmy Fallon and Maya Rudolph) in the guest-host slot … considering all that, last night's SNL was strangely dull. If not for his George W. Bush in the cold open, one might barely remember Ferrell had ever starred on the show at all. Here are the night's best and worst moments.
Best "Best Of":
For the 100th Digital Short, Lonely Islanders Andy Samberg, Jorma Taccone, and Akiva Schaffer assembled a Who's-Who of past Shorts stars to remind us of all the high points. (Sergio!) 
Best Reunion:
I wasn't sure why it was necessary to goose another appearance by legendary women's sports commentators Twinkle and Stink by setting this sketch during O.J. Simpson's 1994 Bronco chase until the very last line. It's a long way to go for that payoff, but it's worth it. Will Forte, I miss you every week.
Worst Debate:
Evidently, the citizens of Funkytown face an important election this year, judging by this debate among mayoral candidates. It's a thin idea that's obviously supposed to be put over with the costuming, but it just feels long.
Worst Talk Show Parody:
This is the first and I will venture to say the last installment of Broadway Sizzles. I was onboard for the ultra-local bit about the Carmel commercial, but that turned out not to be  enough.
PS: As I had predicted, Weekend Update featured a Battleship star joining Nicolas Cage (Samberg) for Get in the Cage. (Sure, it was Liam Neeson and not Taylor Kitsch, but still.)