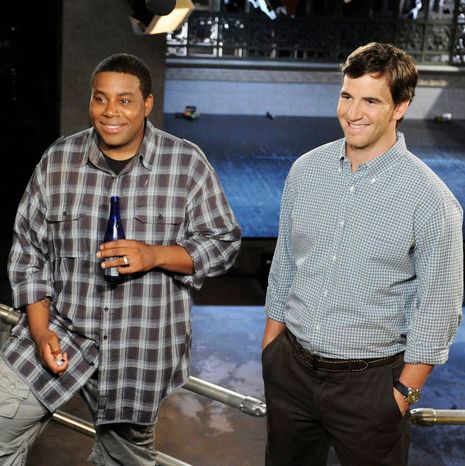 When it comes to an institution as firmly established as Saturday Night Live, public opinion is, naturally, bound to vary. Some will say it hasn't been funny since John Belushi left the show. Others will say that characters like Stefon or Gilly are keeping the franchise as fresh as ever. (Just kidding, no one says that about Gilly.) One thing we all agree on, however, is that when athletes host, they are usually terrible. Of course, there are exceptions — Charles Barkley's latest turn was very strong, for instance — but think back to appearances by people like Nancy Kerrigan or Michael Phelps. Rough stuff.
Tomorrow, New York Giants quarterback Eli Manning makes his SNL debut, and much as he's done in his NFL career, he has to prove himself as strong a performer as his brother Peyton (whose performance in this filmed sketch is one of my all-time favorites). Good luck, Eli! Here's hoping you're not actually as boring as you seem!
11:30 p.m. Cold Open: President Obama (Fred Armisen) allows himself to gloat a little as he addresses the nation upon the first anniversary of Obama bin Laden's assassination.
11:37 p.m. Monologue: As host Eli Manning starts delivering his opening remarks, his brother Peyton (cameo as himself) wanders onstage to point out how much more experience he has than Eli, in every respect.
11:40 p.m. Commercial Parody: Lifetime presents The D List, a spinoff of The Client List, set in a massage parlor like the one in which Jennifer Love Hewitt's character works, but with much lower rates and much less attractive patrons.
11:45 p.m. Game Time With Dave and Greg welcomes Eli Manning (as himself) to the studio, and while Dave (Kenan Thompson) does his best to keep things on track, Greg (Bill Hader) still manages to plant one of his spores on Eli's shoulder, which grows into a full-size Greg head.
11:53 p.m. Jason Sudeikis, in costume as Mitt Romney, runs into Lorne Michaels in the hall outside the studio; as they talk about the fact that the actual Romney won't appear on the show this season, Sudeikis can't stop bracing for a Romney walk-on sneak attack.
11:59 p.m. Digital Short: A group of Avengers-like superheroes are perplexed as to how best to deploy their newest member (Manning), whose power is being really good at throwing footballs.
12:07 a.m. Rihanna performs.
12:14 a.m. Weekend Update features Snooki (Bobby Moynihan) commenting on Patricia Krentcil's extreme tan; and Brian Williams (cameo as himself) assuring America that he's okay seeing his daughter Allison in various states of undress and compromising positions in her role on HBO's Girls.
12:27 a.m. What Up With That? showcases a performance by the world's foremost gum bubble blowers (Manning).
12:37 a.m. Commercial Parody: Following the show's bombshell interview with Bobby Brown regarding his late ex-wife, Whitney Houston, Today announces a series of sitdowns with other Houston intimates, including her fourth cousin (Nasim Pedrad), her decorator (Thompson), and her personal trainer (Manning).
12:40 a.m. Digital Short: A new installment in the adventures of Rihanna and Shy Ronnie (Andy Samberg).
12:47 a.m. Rihanna performs.
12:52 a.m. Eli Manning (as himself) has dinner with Tim Tebow (Taran Killam), offering tips on how to maintain his Christian faith even after his move to New York.
1:00 a.m. Good night!