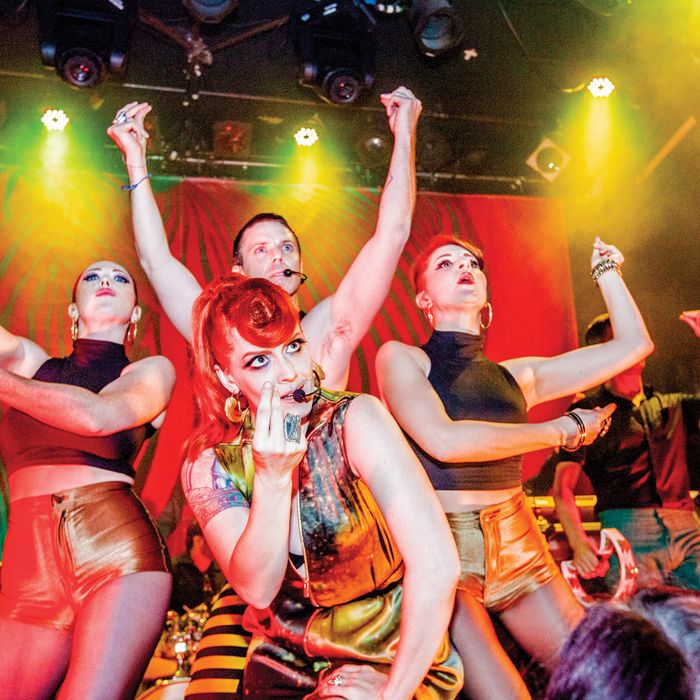 Scissor Sisters perform at the Bowery Ballroom on May 6.
Photo: Kevin Tachman
If you reacted to news of Donna Summer's death (at 63, of cancer) by revisiting her early discography, you'll have already been reminded of the breadth and poignancy she brought to mainstream ­disco—the way her records could span throbbing dance classics to musical theater to misty sentimentality. If, soon after, you reacted to news of Robin Gibb's death (62, also cancer) by revisiting the Bee Gees' late-seventies work, you got a double dose of the "misty sentimentality" part. This is not a side of pop that critics have always praised: For years, the party line seemed to be that the seventies and eighties were eras of goopy, glitzy dreck and lumbering, pompous rock, all in dire need of rescuing by punks with battered guitars. At times, even disco's defenders accepted those terms. Forget the soft-­focus glamour that crossed over to a vast American mainstream; they'd praise the genre by pointing out how much of it was underground, radically inventive, avant-garde, and steeped in gay subculture—which is to say, punker than punk.
Take note, though: Lately, the grandest, goopiest, most deliciously unembarrassable impulses of seventies and eighties pop have been in resurgence. Disco glitter, big-haired bluster, Broadway theatrics—these things have become pop symbols of bravery and brashness, open-hearted vitality and emotional fearlessness. (How could they not, coming after years of kids' using the word gay as an all-purpose insult, with these same qualities in mind?) And if they still sound tacky to you, well, that's exactly the issue: Lately, calling anything tacky seems a bit old-fashioned and parochial.
The biggest sign of that resurgence is almost too obvious to mention: Lady Gaga's domination of the charts with cold disco, musical-theater interludes, and old-school AOR bombast, complete with guitar solos from Brian May and sax solos from the late Clarence Clemons. And as I write this, the No. 1 album in the country belongs to a singer who, like Summer, spent younger days in European productions of Hair—American Idol grad Adam Lambert, whose Trespassing kicks off by winking at Queen's pomp-rock disco and enlists Chic legend Nile Rodgers on a sly track called "Shady." The album's tough, glammy dance-pop might not sound too much like the past, but it has a sense of scale and drama befitting a late-seventies megastar—just like the anachronistic glam rock on Lambert's last LP did. He's said the album's dance turn was inspired partly by the French electronic duo Daft Punk, which might be telling: In 2001, that group released Discovery, a much-loved record that filtered gummy seventies and eighties styles into a wide-eyed, nostalgic version of the way they might have sounded to a small child with a radio. The album was hugely influential, for dance and rock fans alike—and, perhaps, one small step in the critical rehabilitation of sounds many listeners had always thought of as cheese.
A bolder step came from New York's own Scissor Sisters, a five-piece band whose 2004 debut was a cartoonish pileup of potentially unfashionable sounds: rollicking Elton John–style piano numbers, Bee Gees falsetto, gooey seventies guitars. They covered Pink Floyd's "Comfortably Numb"—as a disco track. Their visual sense could be campy and bespangled; they made pop in the mode of people who could open arena shows for Abba, despite expecting no such success themselves. But they were a hit internationally, especially in Britain; their debut was the U.K.'s top-selling album of that year.
They've been less successful here. A 2007 Village Voice profile suggested part of the problem might be that dance music is "a nearly absent genre on American radio." But in the years since, that's rapidly ceased to be true: At the moment, you'll find pop radio full of almost nothing but dance music, much of it produced by Europeans and sung by American R&B stars. (Just like Summer and Italian producer Giorgio Moroder on "I Feel Love.") This is the world into which Scissor Sisters' fourth album, Magic Hour, arrives. It finds the group running through high-energy dance genres with the same glee of their debut—now with help from German producer Alex Ridha, Pharrell Williams, and Calvin Harris, whose glossy house sound you've likely heard, over and over again, on Rihanna's "We Found Love." The thing that distinguishes Scissor Sisters isn't their skill with any particular one of these sounds; it's the puppyish way they can move from a goofy banger like "Shady Love," in which front man Jake Shears sort of raps in between bouncy synth breaks, to a cheery pastiche like "San Luis Obispo," full of spangly acoustic guitars and other noises that might have been dreamed up on a mid-seventies beach.
The carefree way they toggle between ideas, as if donning and discarding sequined costumes, might strike some as glib and unserious. Sometimes the songs don't get far beyond preening fun, showcases for a sense of wit and freedom that owes much to gay club scenes. (This is an act that plays secret shows under names like "Queef Latina.") Of course, that in itself can be vitally serious to many people—and Scissor Sisters do have a knack for translating that experience to a broad audience. At times, it allows the group to write truly old-fashioned, unguarded, "tacky"-emotional songs about love, loneliness, sex, and danger—some of them, to these ears, far more emotionally specific than the average Gaga track.
These qualities have always been around somewhere, whether in dance-music undergrounds or campy rock acts—but they seem, at the moment, to have more and more purchase on mainstream pop culture. If these acts scan, to fans, as bold and fearless, that's not a matter of cool, or swagger, or camp. It's about grand, earnest theatricality; about unrestrained ambition and oversize emotions; about, perhaps, never telling yourself that anything is "too much." In a recent Voice interview, Lambert outlined a community he felt in touch with—including "Scissor Sisters, Sam Sparro, and Beth Ditto and the Gossip." (It seems obviously artistically relevant that Lambert, Gaga, Sparro, Ditto, and three of five Scissor Sisters are either gay or bisexual.) They were, he suggested, "pulling something off that other people might be a little scared of"—and underlining it with sounds mainstream listeners spent decades suspicious of, sounds other musicians might find riskily immodest. That spirit seems strong lately. Maybe not strong enough to help Scissor Sisters' Stateside sales, but it's something.
Magic Hour
Scissor Sisters.
Casablanca Records.
This story appeared in the June 4, 2012 issue of New York Magazine.