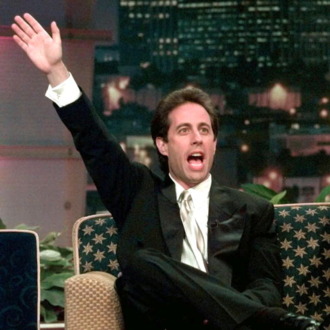 Is Jerry Seinfeld guest-starring on the upcoming third season of Louis C.K.'s FX series Louie? If you believe Chris Rock would accidentally let that tidbit slip during a press junket, the answer is yes. Here's how the news was dealt, according to Hollywood.com: "At the junket for Madagascar 3: Europe's Most Wanted, [Chris] Rock answered his cell phone during his interview with Hollywood.com. But the interruption was for a good reason: Seinfeld was dropping Rock a line to chat about his day at work … on the set of FX's Louie."
Chris Rock and Ricky Gervais showed up in Louie's past two seasons, and if Seinfeld makes an appearance Louis C.K. will have nabbed everyone who appeared with him on HBO's excellent Talking Funny special.
Plus, Marc Maron recently tweeted that he's shooting "a scene" for Louie. Maron and C.K. are besties of olde, with the latter having appeared on a remarkable two-part installment of Maron's WTF podcast in late 2010 and getting choked up over the birth of one of his daughters. The two had a falling out somewhere along the line, hashed it out on the podcast, and then (according to Maron's vague implications afterward) never spoke again. Basically we're saying if you liked the history-laden Dane Cook sequence in last season's Louie, this might be another good one to watch for. This and the Seinfeld thing. And the Artie Lange cameo.