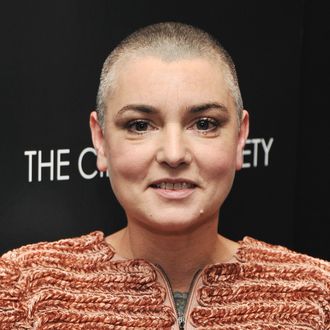 Photo: Stephen Lovekin/Getty Images
Last month, after a long, semi-public psychiatric breakdown, Sinead O'Connor canceled her remaining 2012 tour dates on the advice of her medical team. She made the announcement in a blog post that was almost immediately deleted, but now O'Connor has posted an open letter on her site, recounting the events that led to her tour cancellation and explaining her mental health struggles in great detail. It's a long, sad read.


O'Connor writes that her management team refused to acknowledge her mental health problems and exacerbated her condition with an overly demanding schedule:
Schedules were set without having been run by me, while I was in the midst of a very serious breakdown. I was treated as if it was my own fault I wasn't managing and I was responsible for it … Expectations of me were unreasonable in my opinion and even at times inhumane. And everyone ( apart from my band) working for me remained very far from presenting themselves as any kind of support either on the road or off.
She also claims that she lost her voice on tour as a result of bad tour management:
An example of the type of punishing schedule I referred to is the following after three shows in Los Angeles I had lost my voice. This was because my proper equipment was not ordered. I had only two monitors on the floor. And could not hear myself singing above the big loud  band. There were no side fills… I lost my voice because I had had to shout above the band because of not having the right equipment.
And she discusses her struggles with the medication prescribed for her bipolar disorder:
We have now switched me to different medication which seems to be helping a lot but it will still be a slow process until we get levels right and I recover physically.  I am extremely tired. A symptom of bipolar disorder is the feeling that one is walking through treacle.
It ends on a slightly more optimistic note, though: "I trust the holy spirit always has a plan and I know it's plans for me will always involve music and singing in one way or another." We wish her the best of luck.