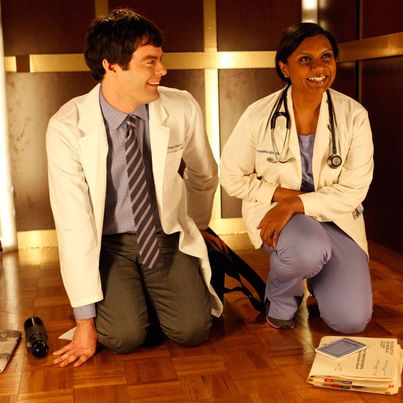 Vulture's TV critic, Matt Zoller Seitz, will be watching and evaluating the early clips and concepts of each of the new shows unveiled at this year's Upfronts.
The Following
The gist: A legendary serial killer (James Purefoy) breaks out of prison and becomes the figurehead of a cult of serial killers organized to do his bidding; Kevin Bacon plays the retired FBI agent who captured the villain back in the day and comes out of retirement to catch him again. From Kevin Williamson, writer of Scream and creator of The Vampire Diaries and Dawson's Creek.
Gut reaction: The world certainly doesn't need any more stories about brilliantly diabolical serial killers and the genius burnout law enforcement agents trying to catch them. ("He didn't just eviscerate fourteen female students," one of the hero's colleagues tells him, "He was making art." Yawn.) But Williamson has done strong work in the past, and Bacon is rarely less than just right. The teaser feels like The Fugitive, only the person being chased is guilty as hell. Could be sick, goofy fun, but there's no possible way it can be nuttier than American Horror Story, because nothing ever will be.
The Mindy Project
The gist: Mindy Kaling, a writer, co-producer, and cast member on NBC's The Office, gets her own star vehicle. She's playing Mindy Lahiri, a doctor stumbling through romantic misadventures owing partly to her ridiculously high standards. (She wants a boyfriend with Michael Bloomberg's wealth, Jon Stewart's personality, and Michael Fassbender's face … and, er, other blessings.) The original title of this series was It's Messy, which was changed after everyone involved collectively realized it's not wise to hand critics a club that they can beat you with.
Gut reaction: Looks like a winner. Early clips are funny as hell, and Kaling's performance has a surprising edge. She seems to be playing a character somewhere between a Zooey Deschanel kooky pixie and Laura Dern's casual narcissist on Enlightened. Chris Messina, Anna Camp, and Richard Schiff co-star.

Ben and Kate
The gist: From New Girl writer–executive producer Dana Fox and executive producer–director Jake Kasdan. Dakota Johnson is Kate, a bar manager who got pregnant in college and dropped out school to raise her now 5-year-old daughter Maddie (Maggie Jones); her man-boy brother Ben (Nat Faxon) moves in to help out and discovers that this whole responsibility thing isn't so bad. With Echo Kellum as Ben's best friend, who has a crush on Kate, and Lucy Punch as Kate's best friend, a Brit nicknamed BJ.
Gut reaction: Oh, fine. I'll give it a chance. But after Kenneth Lonergan's masterful You Can Count On Me, which is essentially the same story, this had better be good.

The Goodwin Games
The gist: Siblings Henry (Scott Foley), Chloe (Becki Newton), and Jimmy (Jake Lacy) stand to inherit $20 million after their father's death if they can live according to his wishes. King Lear, the sitcom. Their dad (played by Beau Bridges, yay!) intervenes from beyond the grave via admonitions and challenges delivered via his estate attorney (Melissa Tang).
Gut reaction: The teasers make this look like a faux-kooky rom-com that would have starred whoever said "yes" after Adam Sandler said "no." It's produced by the How I Met Your Mother team, though, so miracles could happen.

The Mob Doctor
The gist: Jordana Spiro stars as Dr. Grace Devlin, a doctor torn between two identities: that of a respected cardio-thoracic surgeon at Roosevelt Medical Center and an on-call doctor for Chicago's Southside mob, to whom she owes a debt. Zeljko Ivanek plays her boss at the hospital; go-to screen creep William Forsythe (Out for Justice, Boardwalk Empire) is a gangster looking to reclaim his spot in the organization with help from Grace's ex-boyfriend Franco (James Carpinello).
Gut reaction: An existence predicated on moral compromise is usually a promising start for any drama. But given the creative and commercial success of such super-violent cable crime dramas as The Sopranos, The Shield, Boardwalk Empire, and Breaking Bad, it's hard to imagine that a show with this premise can deliver the goods on a mainstream broadcast network.