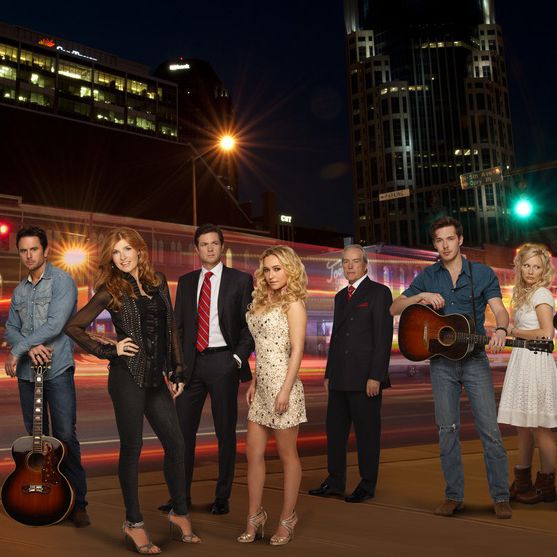 Vulture's TV critic, Matt Zoller Seitz, will be watching and evaluating the early clips and concepts of each of the new shows unveiled at this year's Upfronts.
The Family Tools
The gist: A father (J.K. Simmons) can't run the family tool business anymore and gives it to his son (Kyle Bornheimer), a seminary student. Based on the U.K. show White Van Man.
Gut reaction: I love J.K. Simmons, but this looks too wacky and warm for its own good. Modern Family, what have you wrought?
How to Live With Your Parents (For the Rest of Your Life)
The gist: Single mom Polly (Sarah Chalke) gets divorced and moves into her parents' house with her daughter Natalie (Rachel Eggelston). The 'rents are played by Elizabeth Perkins and Brad Garrett. Daughter and parents clash in an Odd Couple way; she's uptight, they're relaxed and frisky.
Gut reaction: Another quasi-movielike domestic sitcom in the Modern Family vein (with a splash of Parenthood, via co-executive producer Brian Grazer). The constant sexual jokes in the trailer are tiresome, but Perkins and Garrett are both great and loveable and could make the show.
Last Resort
The gist: The crew of the U.S. ballistic missile submarine Colorado goes on the run rather than obey orders and fire nuclear missiles at Pakistan. Andre Braugher is the skipper; Scott Speedman is his executive officer. They take the sub to a tropical island, and Crimson Tide becomes Mutiny on the Bounty. Created by Shawn Ryan (The Shield).
Gut reaction: You can't say you've ever seen this idea before. A ludicrous concept, but promising. Martin Campbell, who helmed Goldeneye and Casino Royale, directed the pilot, which from clips appears to have cost more than an actual nuclear sub.
Malibu Country
The Gist: Reba McEntire plays a divorced mom who packs up her kids and moves to Malibu after her husband destroys their marriage by cheating and spending all of their money. Lily Tomlin plays Reba's mom. Co-executive-produced by Kevin Abbott (Last Man Standing, My Name Is Earl, Reba).
Gut reaction: I love Reba McEntire. She's not just hugely appealing, she's a really good actress. And apparently she sings in this, though I have yet to see proof in the form of clips. I wish it weren't a three-camera sitcom; it just feels wrong somehow, and not special. But almost nobody else will care about that, and unless it's horrible, it could run for years based on McEntire's appeal.
Mistresses
The gist: A remake of the same-named U.K. series about the complex relationships between four women and their significant others. The main characters are a successful lawyer (Alyssa Milano), her hard-partying baby sister (Jes Macallan), and their mutual friends, a recent widow (Rochelle Aytes) and a therapist (Yunjin Kim) who's gotten horribly entangled with one her patients.
Gut reaction: Very high hopes for this one. Fingers crossed.
Nashville
The gist: A female country music legend (Connie Britton) struggles to hold onto her power as a young, treacherous newcomer (Hayden Panettiere) angles to unseat her: All About Eve gone country. The great Powers Booth plays the heroine's power-broker dad. Executive produced and written by Callie Khouri (Thelma & Louise); co-executive-produced by R.J. Cutler (The War Room).
Gut reaction: What a cast. What behind-the-scenes talent. What a great subject. The All About Eve angle is hackneyed, and didn't we get enough of that already on Smash? How can they have the gall to call it Nashville when there's already a classic, totally unrelated Robert Altman film by that name? And why the hell isn't Reba McEntire in this instead of a sitcom? But still, high hopes.
The Neighbors
The gist: A New Jersey couple, Debbie (Jami Gertz) and Marty (Lenny Venito), buy a house next door to a family who are secretly space aliens, and adopt the pseudonyms of famous athletes (Larry Bird, Jackie Joyner-Kersee, etc).
Gut reaction: The trailer didn't make me laugh once, but it did make me want to get stoned and watch it again.
666 Park Avenue
The gist: A horror series from the creators of Gossip Girl and The Vampire Diaries, set in an opulent building called The Drake; Lost's Terry O'Quinn is the landlord and he's married to a sexpot played by Vanessa Williams, which by itself should be enough to convince prospective renters to keep moving. Jane Van Veen (Rachael Taylor) and Henry Martin (Dave Annable) play the couple hired to manage the place. Spookiness ensues.
Gut reaction: The Shining, the weekly soap, with a touch of Fantasy Island (the promo material alludes to the landlord making Faustian bargains with residents). The atmospheric yet faintly trashy trailer suggests that ABC is trying to bite off a bloody chunk of American Horror Story's buzz.  Intriguing, but when's the last time you saw a high-concept network show that didn't utterly fail to do justice to a great premise?
Red Widow
The gist: Rahda Mitchell plays a woman whose husband is murdered because of his involvement with business partners involved in organized crime. Lee Tergesen plays one of the partners, who also happens to be the heroine's brother. An FBI agent convinces her to delve deeper into this world to gather information for a prosecution, and she agrees because she wants to learn who killed her husband and bring them to justice.
Gut reaction: Broadcast networks almost never do these kinds of shows to my satisfaction. There's always something a little bit safe about them, despite the violent and seedy milieu. But we'll see. Dexter writer Melissa Rosenberg's involvement intrigues me.
Zero Hour
The gist: Anthony Edwards plays the publisher of Modern Skeptic, a publication that debunks myths. When his wife (Jacinda Barrett) is kidnapped from their antique clock shop, he tries to find her with help from a treasure map discovered in one of the clocks; the series promise to unravel a master conspiracy that stretches back several centuries and that could imperil humanity itself.
Gut reaction: The Da Vinci Code with a splash of The X-Files. If they can keep a handle on the plot and not fudge the details of their mythology, this could be silly, exciting fun. If not, it'll feel like being trapped on a long plane ride next to a guy telling you his alternative theory of 9/11.