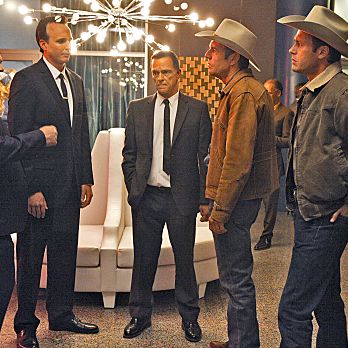 Photo: Lorey Sebastian/CBS
Vulture's TV critic, Matt Zoller Seitz, will be watching and evaluating the early clips and concepts of each of the new shows unveiled at this year's Upfronts.
Elementary
The gist: Jonny Lee Miller and Lucy Liu star in a modern-day riff on Sherlock Holmes — not to be confused with the superb British series Sherlock. Miller is Holmes, Liu is Watson.
Gut reaction:  The preview is encouraging; when Holmes deduces the existence of a hidden "safe room" inside a murder victim's apartment by noting the slope of the floor, then finds it with a marble, the ghost of Sir Arthur Conan Doyle murmurs, "Well played." It's the sort of quirky procedural drama that CBS pretty much exists to broadcast. If Diagnosis: Murder could run for eight years on the Eye network, this one could last long enough to put the stars' grandkids through college, whether it's fabulous or just okay.
Partners
The gist: Will and Grace, but with a couple of architects who have professional and romantic misadventures. One is straight (David Krumholtz), the other gay (Michael Urie). Created by David Kohan and Max Mutchnick, "The fabled creators of Will and Grace," as the promo puts it; it's based on their own lifelong friendship.
Gut reaction: While the PR material radiates sincerity, this feels very 1998. But it's airing on Mondays after the tonally similar How I Met Your Mother, so its success seems assured.

Golden Boy
The gist: Walter William Clark, Jr. (Theo James) is the youngest police commissioner in New York City history. This midseason series tells the commish's story in flashback, starting with his early years as a brash rookie paired with an older mentor (the great Chi McBride); it's a Horatio Alger story, with the working-class hero struggling to care for his sister while learning to be a cop.
Gut reaction: How many sober urban dramas besides The Good Wife has CBS done really well? Not too many. This doesn't ring the "obvious exception" bell.  No promo available, though, so don't be surprised to see me retracting this blurb at midseason.

Made in Jersey
The gist: Janet Montgomery plays Martina Garretti, a New Jersey native who blasted through college and got a job at a white-shoe law firm run by Kyle MacLachlan, despite the fact that everybody else there is an Ivy Leaguer.
Gut reaction: Fish-out-of-water premise; snobs-vs.-slobs comedy cliches; class warfare pandering; inspirational hokum: very Erin Brokovich or My Cousin Vinny, and very much in CBS's wheelhouse. These network people are geniuses of a certain kind; that's not a compliment. Bonus points for casting Kyle MacLachlan as a haughty boss. Minus points for casting a Brit in a Jersey-girl role. "She's got reeeal bowls!" Montgomery assures us.

Vegas
The gist: Dennis Quaid, Michael Chiklis, and Terra Nova's Jason O'Mara star in a cops-and-robbers drama set in Las Vegas in the sixties, an era of Rat Pack swagger, cigarettes, and tail fins. Also heavy-duty mob shenanigans. Quaid's character Ralph Lamb is based on a real-life rodeo rider turned cop. The Matrix's Carrie-Anne Moss co-stars as district attorney Katherine O'Connell. Written by Nicholas Pileggi, who co-scripted Martin Scorsese's GoodFellas and Casino; pilot directed by James Mangold (CopLand, 3:10 to Yuma). Chiklis plays a Chicago mob enforcer who tries to remake the town in his own image.
Gut reaction: If you're going to do a period mob drama with cowboy trappings, this is the right bunch of people to hire; some of the footage in the promo has a Coen Bros or Breaking Bad feel, with Quaid scowling and loping about like the reincarnation of The Rifleman. But the same familiar subject matter that initially draws viewers could push them away if they don't think the show is tough enough; CBS content restrictions will keep this from being more than a hard PG, and Vegas is an R-rated town. 
An earlier version of this story was accidentally published before it was ready.