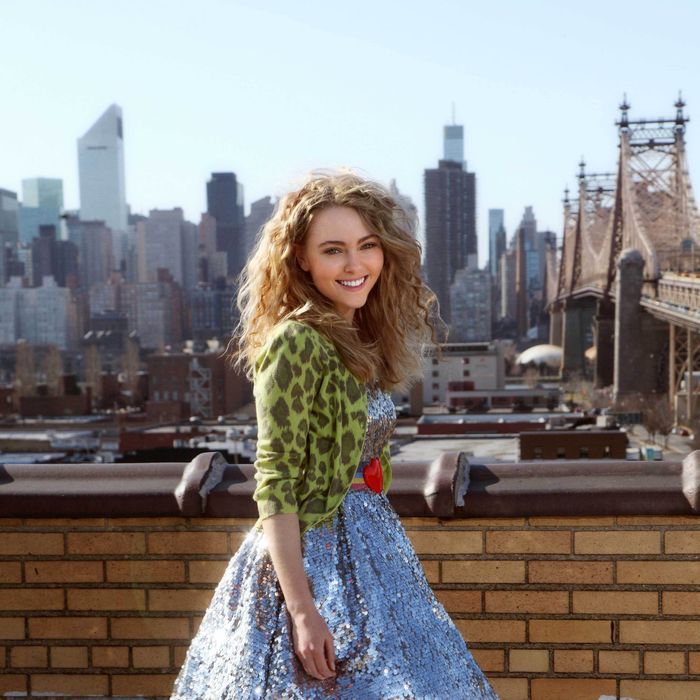 Photo: Eric Liebowitz/Warner Bros. Television
Vulture's TV critic, Matt Zoller Seitz, will be watching and evaluating the early clips and concepts of each of the new shows unveiled at this year's Upfronts.
Arrow
The gist: DC Comics' Green Arrow comes to television as billionaire playboy Oliver Queen (Steven Amiel), who returns home after many years shipwrecked on an island and creates an alter ego to battle crime and his own treacherous, powerful family.
Gut reaction: An early clip has an unexpected physicality, with the ripped Amiel doing some quasi-gymnastic stuff and handling the Arrow's bow with casual mastery. But the superhero genre has had a rotten track record recently on TV, Smallville notwithstanding. Thirteen episodes if it's lucky, then adios.

Beauty and the Beast
The gist: Remember the eighties fairy-tale series starring Linda Hamilton and Ron Perlman? Reboot. Kristin Kreuk (Smallville) is Beauty, a detective scarred by the long-ago murder of her mother. Jay Ryan (Terra Nova) is the beast, reimagined here as a Hulk-like creature who turns monstrous when enraged.
Gut reaction: Between nostalgia for the well-loved original and a new generation weaned on Disney's 1991 cartoon version of the story, it's hard to see how this can miss.

The Carrie Diaries
The gist: Sex and the City, the prequel, starring a young Carrie (AnnaSophia Robb) shuttling between her Long Island high school while digging into then-current fashion and music and worshiping Interview magazine.
Gut reaction: The brash, sometimes appalling frankness of HBO's Sex and the City will be impossible to replicate here, given network content restrictions and the fact that Americans absolutely, totally freak the eff out when kids have sex, drink, do drugs, or otherwise act less-than-saintly on scripted TV programs. But the period-crazy retooling suggests that The Carrie Diaries is going in a different direction — something more along the lines of the early-eighties network comedy Square Pegs, which starred none other than Sarah Jessica Parker. I don't have the slightest idea whether this one'll go down in flames or run for years. But I went to high school in Dallas in the eighties while fantasizing about living in New York, so I'll probably watch every episode even if it's terrible.

Cult
The gist: A police detective named Jeff Sefton (Matt Davis of The Vampire Diaries) investigates the disappearance of his brother, who was convinced that the hit TV series Cult was out to get him. The more Sefton delves into the series, the more convinced he becomes that his brother might have been onto something: The scripted series about the cat-and-mouse mind games between a cop-on-the-edge (Alona Tal) and a diabolical serial killer (Robert Knepper) has inspired a rabid and often deeply weird fan base that seems to be taking the plotlines wayyyyy too seriously.
Gut reaction: No clips available, but the meta-horror nature of the description has a Wes Craven's New Nightmare appeal, and I dig that.

Emily Owens, M.D.
The gist: Mamie Gummer, a.k.a. Meryl Streep's daughter (no pressure there at all), stars as the title character, who just graduated from med school and has become an intern at Denver Memorial Hospital. She's been warned that the place is a super-high-achieving version of high school, with petty feuds and tight cliques. "The jocks have become orthopedic surgeons; the mean girls are in plastics; the rebels are in the ER, and Tyra has her own awkward place as the principal's kid — her father is the chief resident," says the network's description.
Gut reaction: I do believe that adult life is, in fact, a lot like high school, but I don't know if I'd push one-to-one-correspondences as far as this show apparently does. But an early clip showing Emily realizing that her high-school nemesis (Aja Naomi King) is working alongside her has the right high-schooly mix of possibility and dread, so: cautiously optimistic.