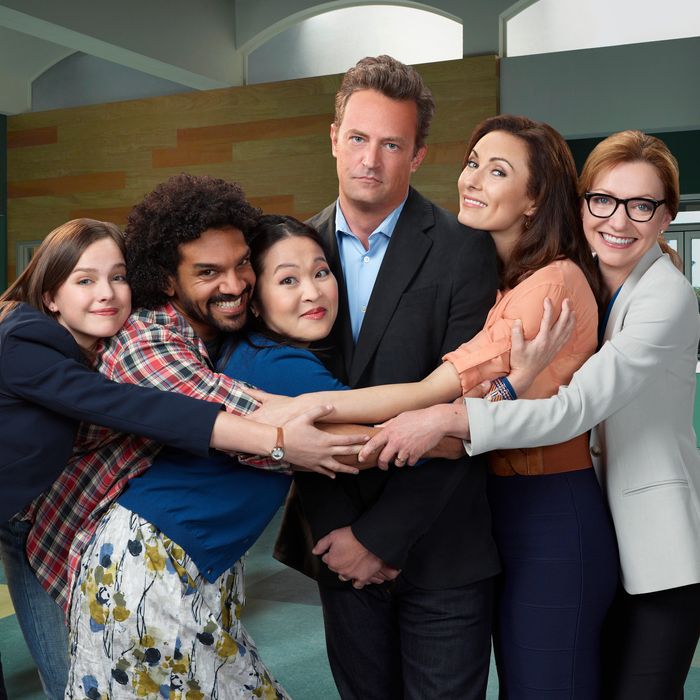 Photo: Paul Drinkwater/NBC
Vulture's TV critic, Matt Zoller Seitz, will be watching and evaluating the early clips and concepts of each of the new shows unveiled at this year's Upfronts.

Revolution
The gist: Fifteen years after a mysterious event removes all electricity and plunges civilization into chaos, survivors eke out a seventeenth-century existence in the rubble.
Gut reaction: Created by Lost honcho J.J. Abrams, with a pilot directed by Jon Favreau (Iron Man), this looks like a lavishly funded postapocalyptic potboiler, Lord of the Flies with a Terra Nova budget. Could be great, provided the creators don't place action and production values over character development and Lost-style mythology. Bonus points for putting Giancarlo Esposito on a horse.
Go On
The gist: Matthew Perry plays a widower who tries to rebuild his life with help from his pals in group therapy.
Gut reaction: The early clips are very promising. Ex-Friend Perry has a gift for comic exasperation; that plus the gravitas of age could add up to something special. Whoever cast Bill Cobbs in a supporting role did their good deed for the year; the man's a treasure.
The New Normal
The gist: A gay couple (Andrew Rannells, Justin Bartha) hires a single mother (Georgia King) to be a surrogate mom; complications ensue.
Gut reaction: We'll try to keep an open mind here, but with the handheld photography, politically correct messages, and half-quirky, half-earnest humor highlighted in advance clips, this show already looks like it's trying too hard to be Modern Family with a splash of Suburgatory. But we'll watch just because Ellen Barkin's got a plum supporting role.
Animal Practice
The gist: Justin Kirk (Weeds) plays the prideful, tightly wound head of an animal hospital who, in the words of another character, "treats the people like animals and the animals like kings."
Gut reaction: Driven, brilliant, often deeply unlikable professional with foolproof redeeming qualities (he loves animals!). Sounds like the quintessential faux-edgy modern network product. Justin Kirk is a major talent, so fingers crossed, but oy, that new car smell.
Next Caller
The gist: Dane Cook and Collette Wolfe play, respectively, the piggish shock jock and the earnest feminist he's paired with.
Gut reaction: Please God no.
Chicago Fire
The gist: Rough-and-tumble drama about the lives of Chicago firefighters, interspersed with spectacular footage of stuff burning. From Law & Order impresario Dick Wolf. Think Rescue Me without the wiseass snarling and sexual high jinks.
Gut reaction: Looks like a John Wells show along the lines of ER or Third Watch. The list of people who've fantasized about either being a firefighter or sleeping with one is not short; could get canceled at midseason, or it could be one of the meat-and-potatoes dramas that runs nine years without ever making the cover of Entertainment Weekly. Would love to be at Denis Leary's house while he hate-watches it.
Infamous
The gist: A female detective (Meagan Good) who grew up as a maid's daughter in a rich white household returns home to solve the murder of the family's heiress, her closest childhood friend.
Gut reaction: Between the soap opera-plus-mystery format, the ingrained race- and class-consciousness, the eye-candy quotient, the faint echoes of Imitation of Life and the perfect casting (Tate Donovan, Victor Garber as rich guys? Hell, yes), this had better be awesome. And even if it isn't, I'll watch anyway.
Do No Harm
The gist: A neurosurgeon's violent alter ego, long suppressed by experimental sedatives, breaks loose and seeks revenge against the doc. A modern Dr. Jekyll and Mr. Hyde, with the sedative as a potion that restrains rather than releases the monster. Steven Pasquale (Rescue Me) stars.
Gut reaction: Dexter plus Nip/Tuck, but with broadcast network content restrictions. Pasquale is a flat-out great actor. Why isn't this on cable?
Guys With Kids
The gist: Three man-boys (Jesse Bradford, Zach Cregger, Anthony Anderson) try to be good dads to their young children [cue cheeseball announcer voice] having a whole lot of growing up to do themselves! Co-starring Jamie-Lynn Sigler (The Sopranos) and Tempestt Bledsoe (The Cosby Show!) as two of the guys' better halves.
Gut reaction: It's bad enough that we have to see Judd Apatow movies in theaters.
Save Me
The gist: Anne Heche plays a woman who deals with a broken marriage by remaking herself as a prophet, saved by God and entrusted with making the world a better place.
Gut reaction: Religious-themed material either has an incredibly rough time on network TV (Nothing Sacred, The Book of Daniel) or runs forever (Highway to Heaven). This seems more like a psychological drama of the type that you'd expect to see on Showtime. So who knows? In any event, casting Anne Heche as a well-meaning but totally unhinged person feels like a slam-dunk, and the quality of the acting in advance clips is sterling.
1600 Penn
The gist: Bill Pullman plays the president in a domestic sitcom that's been described as Modern Family goes to the White House.
Gut reaction: Canceled after thirteen episodes; would have been canceled sooner if it weren't so expensive to make.