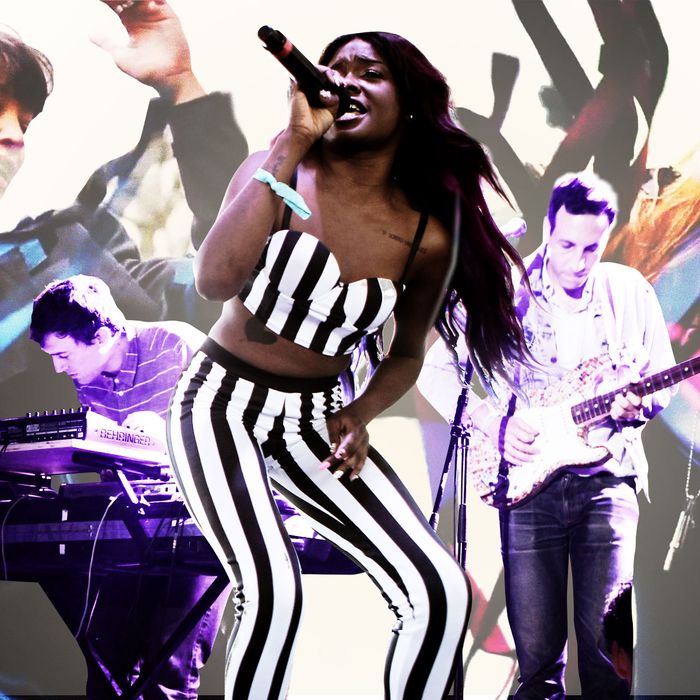 Photo: Karl Walter/Getty Images (Banks),Astrid Stawiarz/Getty Images(Tanlines), Youtube (Icona Pop)
Last week's Song of Summer Kickoff was also a test: How many Vulture commenters skip straight to the music treats, without reading things like introductions and rules? A few of you! Because along with the expected comments about how Top 40 sucks and "I'm sticking with '1 Thing'" and your standard SoS fare, there were a few sad readers bemoaning the lack of Tanlines on the Steamroll Pop list. Friends! We promised there would be a Hipster Cookout Division! And of course it includes Tanlines! We are not monsters, only bloggers who like to divide contests into smaller categories to string things out a little. So here now are your indie barbecue contenders; feel free to keep suggesting and protesting in the comments.
Tanlines, "All of Me"
By popular demand!  (We like it, too, obviously.)
Icona Pop, "I Love It"
A Swedish pop duo, with a song written by Charli XCX (a British pop wunderkind in her own right) and produced by Patrik Berger (who co-wrote "Dancing on My Own"): This one is already kind of a lock before you press play. But then you will be happy you did, because it goes hard. Vulture also welcomes any excuse to jubilantly scream "I. Don't. Care!" at people, so we're big on this one.
Azealia Banks, "Jumanji"
Yes, there's also a Car-Stereo Hip-Hop category coming, but AB feels like the hipster's choice. Really, she should've just dropped "212" in April, but what can you do; rules are rules.
Beach House, "Lazuli"
For that part of the barbecue when you're conducting grill experiments and someone just went on the eighth beer run and people are thinking about making new "friends."
Animal Collective, "Honeycomb"
For that part of the barbecue when the grill experiments go terribly wrong and people just start setting things on fire. Happy summer!