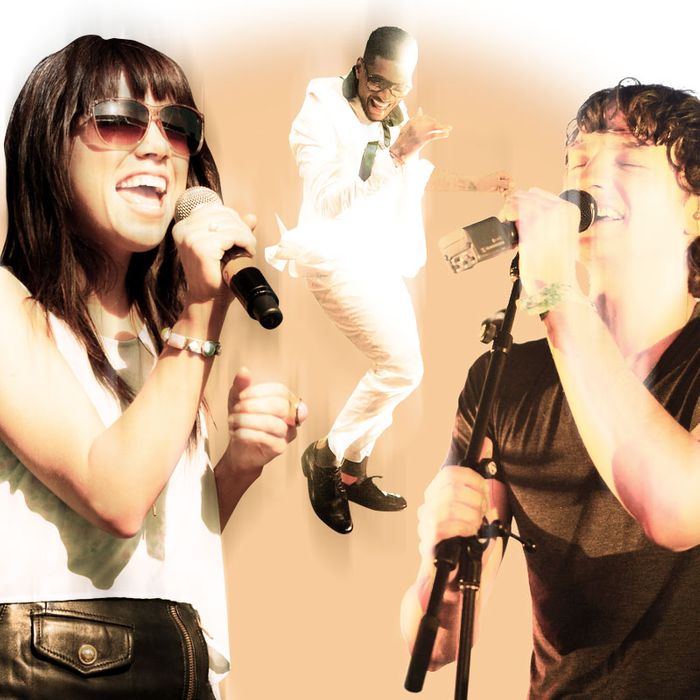 Photo: Kevin Winter/Getty Images, Kevin Mazur/WireImage, Michael Buckner/Getty Images
History says so, the radio says so, and that yearning in your heart says so: Song of Summer Season is upon us. It is finally socially acceptable to blast one song — and one song only — on repeat from the car stereo or other speakers of your choosing for eighteen weeks straight! But what will that song be? What perfectly engineered earworm will be crowned your 2012 champion? Welcome to Vulture's annual Song of Summer contest, in which we tirelessly scour the charts and the barbecues to answer that very question. This year, we're reverting back to the category system, meaning that we'll pull out contenders in four subgenres — Steamroll Pop, Hipster Cookout, Car-Stereo Hip Hop, and Rhythm and Blues* — then pit the major contenders against each other in an SoS death match. It may get ugly! It may just be Gotye, over and over, for three months straight (which would also be ugly)! But we will not rest until a winner is declared. So today, let's get things started with the most basic category: Steamroll Pop, a.k.a. the Katy Perry Division, or "the songs that will be bludgeoned into your head come August, whether you like it or not."
"Somebody That I Used to Know," Gotye

It's been No. 1 on Billboard for five weeks straight, and it has more covers and tribute videos than we can count, but let's not beat around the bush: The Franco Endorsement is all that matters. This is your song to watch, even though it's a bummer (remember last year; bummers can still win).
"Scream," Usher

Don't worry, Usher fanatics: "Climax" and maybe even "Lemme See" will be contenders in other categories. But "Scream" is the SNL-approved, mind-numbing radio dance jam, so it gets the nod here.
"Where Have You Been," Rihanna

It's been five years since "Umbrella." It's RiRi's time.
"Boyfriend," Justin Bieber

Vulture reserves the right to change this entry to "The Justin Bieber/Kanye Song," if that actually happens. "I'm 18 years old and I'm a swaggy adult!" (Sorry, we just wanted to type that again.)
"Call Me Maybe," Carly Rae Jepsen

The Today show approves. Vulture, as you have surely noticed, approves. But "Call Me Maybe" stalled at No. 4 on Billboard this week, after a steady march up the charts. Can an Internet sensation actually cross over to bona fide pop radio hit? We will see!
"Wide Awake," Katy Perry (to be debuted at the Billboard Music Awards this Sunday)

It is her division, after all.
* Dedicated Vulture readers will notice that we axed two categories — Fist-Pump Rock and Crossover Country. Our reasoning was that songs from those categories don't usually crack the final list (and also rock is dead and Taylor Swift doesn't have an album coming out this summer). But if you feel very strongly attached to either genre, speak now! The system is not set in stone. Yet.