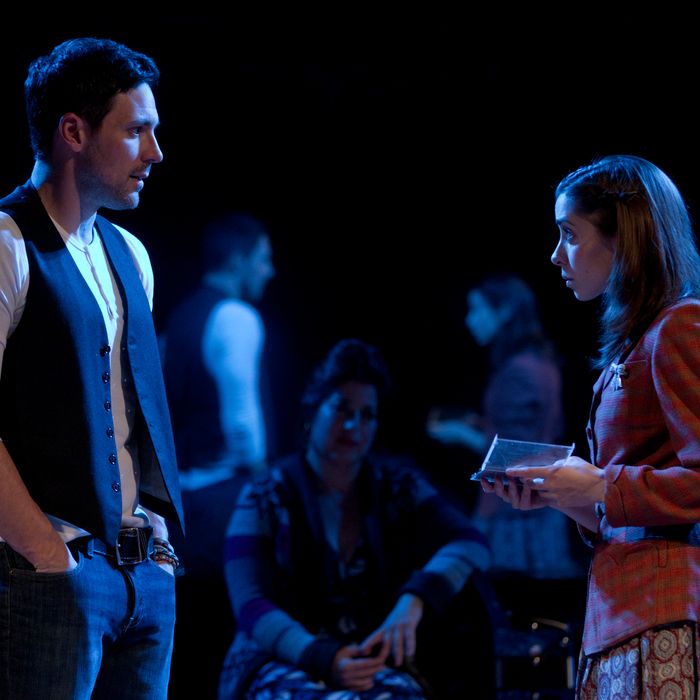 The front-runner for Best Musical? Steve Kazee and Cristin Milioti in
Once.
Photo: Joan Marcus
It's a bit early in the morning for handicapping, something I've never been particularly good at anyway. (Turn to my colleague Melissa Bernardo for the best prognosTonycation in the biz.) But not too early for some gut-level reactions to the just-announced Tony Award nominations — an extraordinarily talent-crowded year for plays and performers (full list of nominees is here). Once leads the pack, but nom-domming didn't help last year's little-show-that-couldn't, The Scottsboro Boys; besides, Once's principal competition for Best Musical, Newsies, rides on a wave of Alan Menken love. (He's a four-time bridesmaid, never a bride, and he has two shows, Newsies and the mostly disliked Leap of Faith, nominated for Best Musical.)  
Already, the cries are going out over the Internet for the unjustly snubbed. Nothing breaks up a family like the Tonys, huh? Death of a Salesman, play revival nominee and presumptive champ, pulled down noms for Philip Seymour Hoffman, Linda Emond, and Andrew Garfield, but naught for Finn Wittrock, whose uniquely interpreted Happy Loman managed to stand out on a stage full of standouts. Or consider Other Desert Cities (which vies, cheek by jowl, with Clybourne Park for Best Play): Stacy Keach was left behind as his fellow Palm Springers Stockard Channing and Judith Light marched on. Did Keach lose his berth to Frank Langella for last fall's indifferent, long-forgotten revival of Man and Boy? Heresy! And Tony darling Bernadette Peters ends up the one member of the Follies foursome not to get a nod. (I attribute this to the same Smash curse that touched Theresa Rebeck's Seminar, which experienced a complete shut-out — though it didn't seem to affect Christian Borle, nominated for his curse-proof turn as the pirate Black 'Stache in Peter and the Starcatcher.) A pal of mine once said that any production of Follies where the men, not the women, are the headline is an automatic forfeit — I don't agree, necessarily, but I'd like to see Danny Burstein and Ron Raines (a very dark horse) do their best to disprove that thesis.  

Similar indignation burns on behalf of Nicky Silver, whose bitterly adored The Lyons was passed over, surprising many. Linda Lavin got her guaranteed nomination for playing the monstrous matriarch Rita Lyons, but there was no love for Silver. Or for the stunning up-and-comer Michael Esper, who faced an overcrowded Lead Actor category. And none either for Joe Mantello or Eric Schaeffer? (My friend Melissa sees anti-regional-theater bias at work in the dismissal of Schaeffer, artistic director of Washington, D.C.'s Signature Theatre.) Some wonder how nominators even got a chance to see Featured Musical Actor nominee Josh Young, who was a sickout at Jesus Christ Superstar for several performances, replaced by the able Jeremy Kushnier. (Many voters and even some critics, myself included, haven't seen Young perform.)

Personally, I'm less incensed about the snubs and more impressed at the overabundance of talent: Behold, a dais crowded with American plays! That doesn't happen every year. (Bollocks! snorts the punchy British commedia One Man, Two Guvnors, which nabbed many a nod, including a lead berth for James Comden, but no Best Play consideration.) P' directed by Roger Rees and my friend and colleague Alex Timbers, hauled in the most nominations of any non-musical, though most theater crones predict the center-ring slug-fest will be Clybourne vs. Other Desert Cities — talk-fest versus talk-fest. (The CW: Starcatcher, a cunning, winning children's theater contraption sophisticated enough to enthrall adults, is more about the language of theater than the language of, well, language.) In a year this Yank-friendly — and light on musicals — even that much-abused American original Frank Wildhorn gets a nod, for the here-and-gone Bonnie and Clyde. That particular caper ends where it began, but we won't know for sure until June 10. Keep your seats.