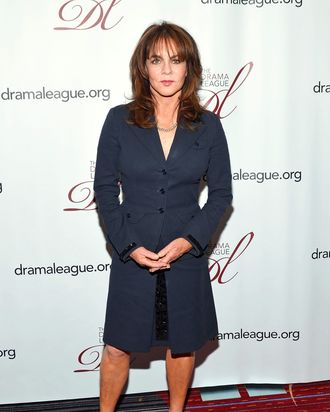 Photo: Mike Coppola/Getty Images
Smash's second season is still but a glimmer in NBC's eye: The show won't be back until spring, and when it returns, it'll be under the stewardship of a new showrunner Josh Safran. And maybe with a new guest star or two? Vulture staked out Smash's future at the Drama League Awards gala last night and caught up with some of the show's current — and maybe future — players.
Michael Cristofer, who plays Anjelica Huston's estranged husband Jerry on the show, told Vulture he's pulling for a Stockard Channing guest arc. "We're all at a certain age now where we end up being someone's mother or father, but maybe she could be this mammoth lesbian producer person, or an agent, or a manager," he suggested. And Channing? She says she's down.
"I would love to do [Smash]," Channing told us. "It's a great bunch of people." When Bernadette Peters was on Smash, she sang a song from Gypsy. Would Channing be willing to dig in her back catalogue and sing something from Grease? "Luckily, that's not something I don't know how to do," she said. "Sure, I'll do that." Oh, the possibilities …